Spruce Goose Hangar Leased by Google Soars Into Market
Wednesday, October 5, 2016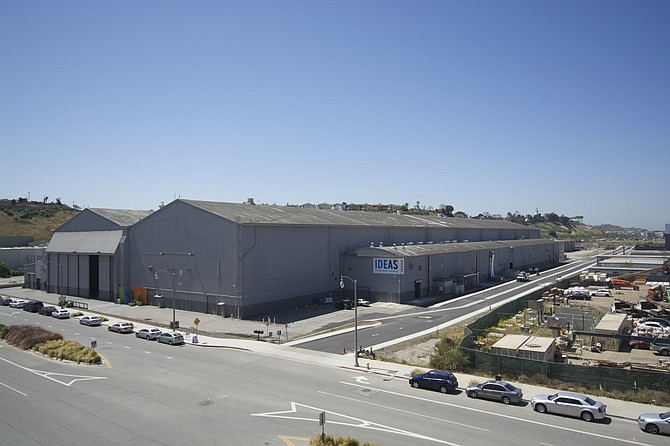 The former Spruce Goose hangar in Playa Vista is up for sale, along with the opportunity to claim Google Inc. as a tenant just as the technology giant is planning to expand its office space within the massive wooden shell designed by aviator Howard Hughes.
According to marketing materials created by brokerage HFF, Google plans to build offices on three stories and a mezzanine, aiming to pay "homage to the history of Hughes' legacy while incorporating cutting edge design." That would increase the square footage from 251,700 to 418,600 square feet of office space.
HFF's John Crump said the property went on the market at the end of August. He would not disclose the asking price, and the site's value could be difficult to estimate. Despite the obvious appeal of owning a Google office, the hangar is currently a raw shell made of layers of glued wood.
However, recent Playa Vista office trades have nabbed between $740 and $840 a square foot. That suggests the Spruce Goose hangar, along with several small buildings that comprise the 358,000-square-foot Hercules Campus West, could potentially land a $300.6 million sale.
The cathedral-like structure contains two sections measuring 750 feet by 100 feet under a roof peaking at 72 feet – large enough for Hughes in the mid-1940s to build the Spruce Goose, a 200-ton cargo carrier also known as "Hercules."
Google's lease, signed last year with property owners Ratkovich Co. and Penwood Real Estate Investment Management, is good for 16 years with three five-year options to renew. Google nabbed a low monthly rent of $2.50 a square foot because it will need to spend heavily on renovations. Portland, Ore.-based ZGF Architects and Santa Fe Springs-based contractor Matt Construction Corp. have been contracted for the project, which has secured several preliminary construction permits from L.A.'s Department of Building and Safety.
Ratkovich acquired the hangar in 2010 when it bought 28 acres of surrounding properties for $34.2 million. The hangar was then generating just over $1 million a year in rent as a soundstage, far below Playa Vista office rates. Google's interest and capital resources rescued Ratkovich from plowing into a challenging conversion project, Milan Ratkovich, the development manager at Ratkovich, said in August.
Google revealed its commitment to Playa Vista in 2014, when it purchased 12 acres of land next door for $120 million. The Silicon Valley-based company also leases space in other parts of the Hercules complex for its subsidiary YouTube, and at the Frank Gehry-designed Binoculars Building in Venice.
Google has an option to buy the Spruce Goose at the end of its lease term, but the opportunity to buy now could potentially prompt faster action.
Google did not immediately respond to a request for comment, and nor did representatives at Ratkovich.
For reprint and licensing requests for this article, CLICK HERE.