Fisker Relaunches His Electric Car Brand
Tuesday, October 4, 2016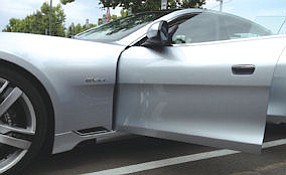 Famed car designer Henrik Fisker has launched a new electric car company named Fisker Inc. in Los Angeles.
Fisker launched his first electric car company Fisker Automotive in 2007, which produced the 2012 Fisker Karma electric car. But, that company later went bankrupt in 2014 and some of its assets where bought up by Wanxiang Group of China.
The new company hasn't unveiled the design of its car, but says it will be a luxury electric vehicle using new battery technology that will deliver the world's longest electric life and a reported 400-mile range. The car's design is expected to be unveiled in the second half of 2017.
The electric car will have more rear legroom and headroom than any of its closest competitors, said the company in a statement. It is expected to retail for less than $40,000.
Technology reporter Garrett Reim can be reached at greim@labusinessjournal.com. Follow him on Twitter @garrettreim for the latest in L.A. tech news.
For reprint and licensing requests for this article, CLICK HERE.