Can Paper Bag Billionaire?
MEDIA: Tronc Investor Patrick Soon-Shiong May Be Best Positioned to Pick Up L.A. Times
Friday, November 11, 2016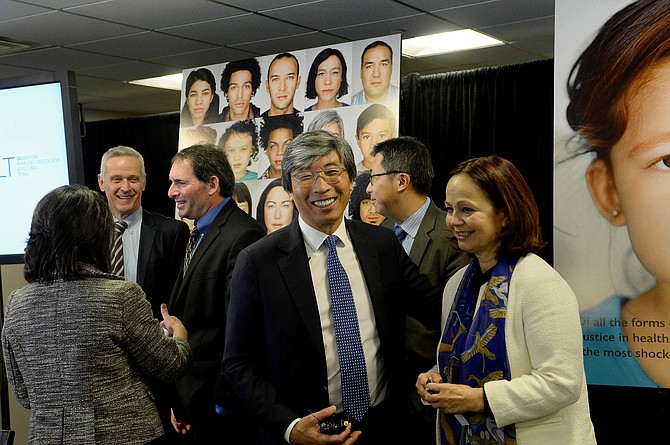 Owners with deep pockets don't necessarily demand immediate results, said Brian Tierney, chief executive of Brian Communications near Philadelphia and former publisher of The Philadelphia Inquirer.
"If you have a benevolent ownership group that has concern and care for the community, and the resources to withstand the vagaries of the industry, it can be spectacular," he said.
That might eventually prove true for the Inquirer, which now operates under a nonprofit that local philanthropist H. F. "Gerry" Lenfest founded in January and backed with a $20 million gift.
The Boston Globe also piqued the interest of a rich businessman close to home. John Henry, the Boston-based principal owner of the Boston Red Sox, purchased the paper from the New York Times Co. for $70 million in 2013.
The Globe has experimented with different ways to package online and print content under Henry's leadership – even if those experiments haven't always succeeded, such as a Web page covering the Catholic church. Still, media analyst Dan Kennedy, a professor at Northeastern University's journalism school, sees benefits in Henry's ownership.
Related Link: Real Deal Eludes Parent As Paper Pursues Digital
"The Globe has not been cut the way some rapacious, out-of-state corporation would have cut it," he said. "I still think the Globe is better off with a benevolent billionaire than with anybody else."
The most dramatic newspaper turnaround came in 2013, when Amazon.com Inc. founder Jeff Bezos bought The Washington Post for $250 million.
The tech mogul, whose net worth is estimated at nearly $64 billion by Forbes, invested in technology, pushed the paper's national coverage, and, within a couple of years, boosted digital traffic beyond levels reached at The New York Times.
At the same time, Bezos is running the paper as a business, not a vanity project, and has used Amazon resources to promote the paper.
Other dailies have joined the portfolios of the super wealthy recently. Among those who have picked up print properties are Glen A. Taylor, a majority owner of the Minnesota Timberwolves pro basketball team, who bought the Minneapolis Star Tribune for $100 million in 2014, and Alice Rogoff, former chief financial officer of U.S. News and World Report and wife of Carlyle Group billionaire David Rubenstein, who bought the Alaska Dispatch in 2009. She went on to buy the Anchorage Daily News for $34 million in 2014.
These acquisitions have largely proceeded smoothly, in many cases avoiding the editorial interference from ownership that many feared. (Tierney said he had his partners in the 2006 purchase of the Inquirer sign a pledge affirming they would not meddle in the newsroom.) An exception has been billionaire casino magnate Sheldon Adelson's purchase of the Las Vegas Review-Journal last year for $140 million. The deal drove more than a dozen reporters to quit rather than face the expected limits they would face on covering their new owner.
For reprint and licensing requests for this article, CLICK HERE.