Paper Delivers With Internet
Friday, July 22, 2016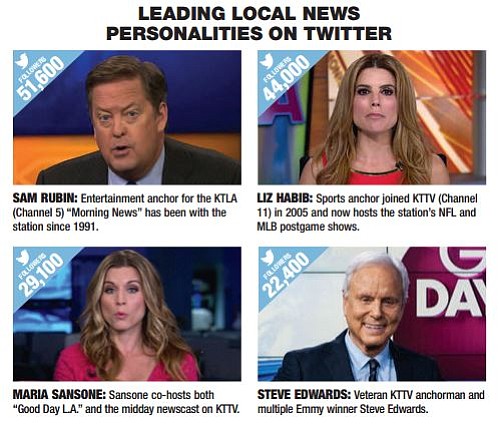 In the battle between local news organizations for digital audiences, the Los Angeles Times is far ahead of L.A.'s TV news operations.
The paper's website gets nearly five times the amount of traffic as any of the local broadcast affiliate stations, according to audience measurement firm comScore. Its 39 million unique visitors in June were a high for the year.
The dominance extends to social media as well, with the Times' numbers coming in higher than its nearest TV rivals, Walt Disney Co.'s KABC (Channel 7) and Tribune Media's KTLA (Channel 5).
That's significant in an era when 62 percent of U.S. adults are getting their news on social media, according to a new joint survey from Pew Research Center and the Knight Foundation.
Faced with falling circulation as consumers increasingly turn to digital platforms, print publications have been forced to innovate or die during the past 10 years.
The Times has amassed more than 2 million followers on both Facebook and Twitter, and garners the most traffic in its market for any legacy news operation. The goal of reaching consumers on social platforms is to drive traffic to the media outlet's website as well as to maintain relevancy with current and prospective audiences by interacting in real time.
Times owner tronc Inc., formerly Tribune Publishing, plans to accelerate its digital strategy, announcing last month that it would work toward a goal of increasing video content on 50 percent of its news articles as soon as possible by using a variety of new and existing technologies. Currently, 16 percent of the articles on its websites include video content, according to the company.
"We need to build," said Anne Vasquez, tronc's chief digital officer. "In this social media age, increasingly people are gaining an understanding of their communities through video. We need to be able to meet them where they are."
The company also has access to more than 100 artificial intelligence patents by way of L.A. billionaire and tronc investor Patrick Soon-Shiong, which it plans to spend the months and years ahead experimenting with in order to increase monetization as well as value for readers.
Television news stations need to look more to the future in terms of technological experimentation to avoid problems down the road in an uncertain media landscape, according to Amy Webb, founder of Washington, D.C.-based research and advisory firm the Future Today Institute.
"It's important that stations are tracking future trends, because when the time comes in 10 or 15 years to switch gears, the gap will be insurmountable," she said. "I'm dumbfounded that news stations have not tried to plow ahead with innovation."
Some local TV news personalities are taking it upon themselves to boost their station's digital presence. KTTV (Channel 11) lags behind on website traffic and social followings but some of the Fox affiliate's anchors, such as Steve Edwards, Maria Sansone, and Liz Habib rank among the most-followed local news personalities in the market.
Social media is crucial in audience-building, said Webb. "Twitter tends to drive more click-through content to stories while Facebook generates more conversation."
For reprint and licensing requests for this article, CLICK HERE.