New FAA Guidance May Lift Drone Companies
New FAA Guidance May Lift Drone Companies
Friday, July 22, 2016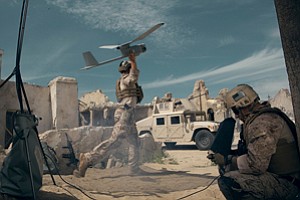 Drones can fly up to 500 feet under new Federal Aviation Administration regulations. But there is no limit on the revenue that drone makers can generate.
Thanks to the new rules, Monrovia-based AeroVironment Inc. is among the companies expecting to be able to tap into new markets and revenue streams with fresh products.
The firm expects to post up to $280 million in revenue next year, an 8 percent increase from $259 million in 2015 according to Steven Gitlin, vice president of AeroVironment.
"The FAA regulations are promising," he said. "They streamline the process for operating legally in the national aerospace system and that's going to be an important step for a number of our customers."
Drone operators were previously required to be licensed pilots and wait for months to gain permission to use the unmanned flying vehicles. But under rules going into effect at the end of next month, they can fly commercial drones weighing less than 55 pounds without a license as long as the unit stays within an operator's line of sight.
That is expected to boost demand from a wide range of industries.
"The rules will promote the development of drones for the agriculture and film industries," said Michael Drobac, director of the Small Unmanned Aerial Vehicles Coalition, an industry advocacy group in Washington, D.C. "Companies such as AeroVironment will be impacted in a positive way."
New camera-equipped drones for the oil, gas, and real estate industries are also set to be introduced by the industry.
The regulations are set to generate more than $82 billion for the U.S. economy and produce more than 100,000 jobs over the next decade, according to the FAA's website.
Worldwide sales of drones to companies and individual operators reached $4.5 billion last year, up from $3.3 billion 12 months earlier, according to San Antonio-based market research group Frost & Sullivan.
Turbulent history
AeroVironment might be getting a lift from the new regulations but it hasn't been smooth flying for the company recently.
Once the Pentagon's largest supplier of military drones, including Switchblades, weaponized toy-size drones that can kill a target, the company took a hit as the recession, cuts to government spending, and the drawdown of U.S. troops in Iraq and Afghanistan contributed to a steep decline in revenue. Revenue in 2013 was $240 million, down from $325 million the previous year.
Founded in 1981, AeroVironment specializes in manufacturing unmanned aerial vehicles and rechargeable battery technology for electric vehicles.
The company went public in 2007, raising $114 million to invest into drones and a line of car recharging stations. Its founder, Paul MacCready, died the same year at age 81.
The company produces drones at its 85,000-square-foot plant in Simi Valley and employs more than 600 people at its factory and headquarters in Monrovia. Unmanned aerial systems, or drones, accounted for 85 percent of the firm's revenue last year.
Analysts said interest in original drones has been winding down, but new offerings could generate fresh interest.
"There is clear evidence that the company's legacy product lines such as Raven, Wasp, and Puma, drones that drove growth in prior years, are now losing momentum," wrote Michael Ciarmoli, an analyst at Cleveland-based KeyBanc Capital Markets, in a report. "New product offerings and new initiatives are helping to fill the gap."
AeroVironment is already expanding its drone fleet.
"We increased our internal investments in fiscal year of 2015 to support our tactical missile systems and commercial unmanned aircraft systems initiatives, and in 2016 to support commercial aircraft systems initiatives," Gitlin said.
The company will produce a fixed-wing aircraft, which flies horizontally and is able to gather data from large fields for agriculture and energy companies. A hovering drone could be used for scanning towers and power lines.
Gitlin declined to disclose prices of drones the company will sell for commercial use. But its most popular military surveillance system, Raven B, which includes three drones and two ground stations, carries a price tag of $200,000.
AeroVironment officials have said they would repurpose the Raven B, designed for rapid launch and low-altitude surveillance, for commercial use in the energy and agriculture industries.
British energy company BP has already said it will use AeroVironment's Puma AE for inspecting its oil fields in Alaska.
"We will see an incredible increase in demand, especially for commercial use," said Greg Autry, assistant professor of clinical entrepreneurship at USC's Marshall School of Business.
For reprint and licensing requests for this article, CLICK HERE.