Lawmakers Question Support for Infrastructure
POLITICS: Group alleges SoCal projects not getting share of federal grants.
Friday, July 22, 2016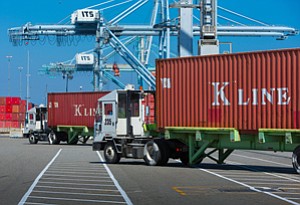 A group of local lawmakers is demanding to know why the U.S. Department of Transportation has denied freight and road grants to several Southern California projects, including two at the Port of Long Beach.
Legislators sent a letter to Secretary of Department of Transportation Anthony Foxx, demanding to know why the infrastructure projects were denied grants.
"Los Angeles is home to the busiest port complex in our nation and the region is responsible for moving 40 percent of the nation's cargo trade," U.S. Rep. Janice Hahn, D-San Pedro, wrote. "It is where the freight network begins and ends and should have been an obvious choice for a grant."
A bill signed into law by President Barack Obama in December authorized $305 billion in federal funds over the next five years to infrastructure projects.
The program, known as Fixing America's Surface Transportation, aims to fund projects that would cut congestion, expand capacity, improve highway developments, and handle freight more efficiently.
The Port of Long Beach sought financing for an intermodal rail yard in the new automated Middle Harbor terminal and an on-dock rail in the Terminal Island Wye. Both projects aim to improve railroad capacity by reducing truck trips and cutting emissions. Air pollution remains a big problem for ports.
But these projects won't stop despite a lack of federal funding.
"We are moving forward with these projects, as well as many others,"
Port of Long Beach spokesman Lee Peterson wrote in an email. "Our team will access which projects to pursue grants for when the next application period arrives."
More than $396 billion in national cargo moves through Southern California ports, roads, and freeways each year.
Among the ports that received federal grants are the ports of New York; Coos Bay, Ore.; and Savannah, Ga.
The agency also denied grants for several other Los Angeles County projects, including work on the 71 freeway, and 57-60 and 110-405 freeway interchanges.
Loss for Win Win
Yet another trucking company has had to pay out millions in a judgment for misclassifying drivers as independent contractors.
Downtown's Laca Express Inc. and its subsidiaries, QTS Inc. and Win Win Logistics, were ordered to pay $5 million by a Los Angeles County Superior Court judge after their drivers brought suit.
More than 380 truckers will receive a portion of the amount from the companies, which operate at the ports of Los Angeles and Long Beach.
According to the lawsuit, the truckers said they were wrongly classified and as a result had deductions improperly taken from their paychecks and were denied benefits.
For reprint and licensing requests for this article, CLICK HERE.
Prev Next