Cargo in Limbo After Hanjin Stops Operations
Wednesday, August 31, 2016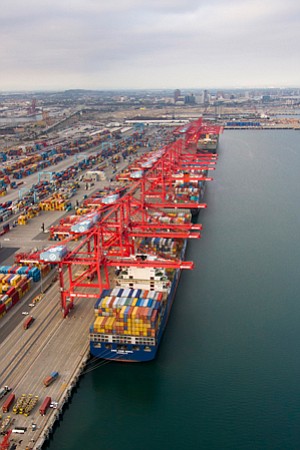 Ships loaded with cargo were sitting directionless off the California coast Wednesday after Hanjin Shipping filed for bankruptcy and ceased operations.
Three Hanjin Shipping Co. Inc. cargo ships destined for the Port of Long Beach were ordered to stop and were waiting off the California coast, while a fourth was at anchor in the Long Beach harbor under orders by local authorities not to leave port, said Kip Louttit, executive director of the Marine Exchange of Southern California.
From the 25 or so crew members stuck on each of the ships, to trucking companies trying to move containers to and from ports, to retailers waiting for goods to arrive, the unprecedented bankruptcy of the seventh-largest carrier in the world could have far-reaching implications.
"To my understanding, nobody has seen something like this," Louttit said.
He said his non-profit organization, which coordinates ship movement within the Long Beach and Los Angeles harbors for a fee paid by shipping companies, was told by Hanjin "we're not paying any bills."
Employees at freight forwarding and trucking companies said Hanjin gave them the news by email Wednesday.
"We're cancelling all bookings, and all operations have ceased," Hanjin said in an email to Los Angeles-based American Export Lines, according to marketing director Kasra Ferasat.
"It's sad, because we use them a lot," Ferasat said. "We have a great relationship with them… It's definitely going to be a problem for us, for the whole industry."
While Hanjin calls at ports around the globe, its primary operation in California is at the Port of Long Beach's Pier T. Hanjin has majority ownership in the pier's operator, Total Terminals International, and it's responsible for one-third of Long Beach's cargo. Of that, Hanjin Shipping moves a third of the Pier T cargo, while other carriers pay to use the terminal as well.
Even Hanjin's own terminal stopped accepting the company's ships.
"Until further notice, TTI Long Beach will discontinue delivery of all Hanjin Import Containers," the company said on its website. "Additionally, TTI will no longer accept Hanjin export or empty containers through the gate."
Tony Hernandez, a dispatcher at trucking company 2000 Fuel Corp. Inc. in Wilmington, said his company received a similar message – that all of the terminals where its trucks operate were no longer accepting Hanjin cargo or containers.
Already, just hours after the announcement and about a day after filing for court receivership, American Export Lines was feeling the pinch.
"It's really affecting us for sure," Ferasat said. "We had probably about 10, 15 containers around the country that were either loaded with goods for export or they were on their way to get loaded."
His company works as the intermediary between carriers and businesses that need to import or export goods, booking space on cargo ships, transporting containers by truck, and providing warehouses for holding them.
But even getting a single, empty cargo container from Kansas City to the Port of Long Beach so it could return to China for more cargo proved impossible Wednesday, he said.
Usually, Hanjin shares sea lanes with several other carriers, but none of them had a spot for that lone container anytime soon, Ferasat said.
Of greater concern are the containers still aboard ship somewhere in the world.
"We have shipments on the water, too. We're worried," Ferasat said. "We don't know what's going to happen when they hit the ports because we don't know if they're going to accept the Hanjin carriers."
Reuters news agency reported that some other ports around the world also had stopped receiving Hanjin ships.
Sorting out Hanjin's fate – whether it will continue in some form or be dissolved – could take up to a couple of months, according to a South Korean judge quoted by Reuters.
Hanjin's filing for court receivership followed months of negotiations with creditors, who on Tuesday rejected the company's plan to restructure its debts, sell off assets, and come up with $1.1 billion in liquidity. Cargo carriers around the world have been struggling financially because of unusually low prices and demand, though for the moment, Hanjin's troubles could be a boon as its competitors move to take on its shipments.
Trade, transportation, and manufacturing reporter Paul Eakins can be reached at peakins@labusinessjournal.com. Follow him on Twitter @Pauleakins.
For reprint and licensing requests for this article, CLICK HERE.