Soylent Tastes Bad and Doesn't Care
Wednesday, May 27, 2015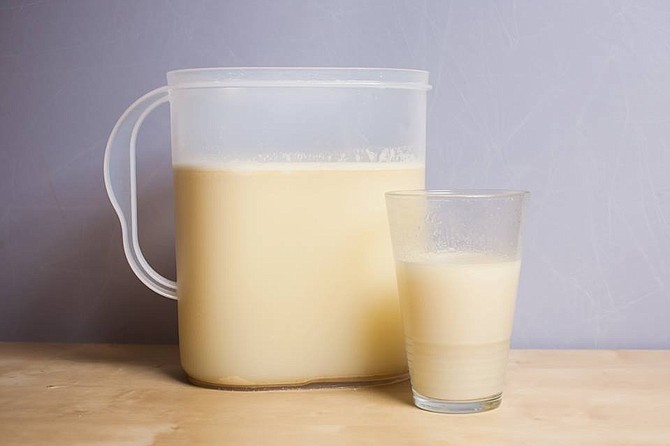 Meal replacement manufacturer Soylent is getting strange looks from the media these days, but it doesn't mind.
Called a "punishingly boring, joyless product" in one recent New York Times article and "bland, gritty pancake batter" in another, the downtown L.A. company is receiving reviews that most food makers would dread. Yet, the media attention is playing right into Soylent's messaging.
"What we'd really like to do is change this cultural Zeitgeist around everyone having this obsession around everything being organic and natural," said David Renteln, chief marketing officer and a co-founder of Soylent. "What we'd really like to do is make nutrition as scientifically based as possible."
Soylent is a grey-brown powder that claims to be packed with all the essential nutrients a human needs to survive. Its emphasis on science over all else has won it $24.5 million in investment from the likes of Andreessen Horowitz and Alexis Ohanian, a co-founder of Reddit. Its focus on science has also created a passionate customer base within the tech community, especially among time-pressed engineers that would rather go without the hassles to traditional eating.
"We're really trying to help people replace meals that are sub-optimal," said Renteln. "If you ever have something that is rushed or not satisfying, odds are it's not nutritious."
To that point, Soylent markets its powder to hurried techies using words they understand: tech jargon. How customers choose to drink Soylent are "use cases;" the powder's changing formula is "iterating;" and the company's goal is to create a food that "scales."
"Unlike most other foods which prioritize taste and texture, Soylent was engineered to maximize nutrition, to nourish the body in the most efficient way possible," said one promotional video on Soylent's website.
Combined with tech focused marketing, customers also appreciate Soylent's narrow focus on engineering nutritional value, which they see as more authentic, said Renteln.
"A lot of the large food companies have for decades foisted these products on customers that are not as nutritious as they should be," he said. "In many ways the consumer has lost trust in processed food as a category."
With Soylent what you see on the nutrition label is what you get, with no added taste or texture.
And that odd embrace of tech jargon and engineered food has other desirable side effects too: it's attracted attention from curious outsiders. The company said it had shipped 6.25 million "meals" across the country to date, with truck drivers, single mothers and college students also finding "use cases" for the powder.
"With regard to the nutrition and the scientific evidence we are extremely serious," Renteln said. "With regard to incorporation into someone's lifestyle we definitely intend to be tongue-in-cheek."
Technology reporter Garrett Reim can be reached at greim@labusinessjournal.com. Follow him on Twitter @garrettreim for the latest in L.A. tech news.
For reprint and licensing requests for this article, CLICK HERE.