Shoe Seller Sees Next Step As Brick-and-Mortar Shop
FOOTWEAR: Sole Society's expansion plan boosted by money from Nordstrom.
Sunday, July 26, 2015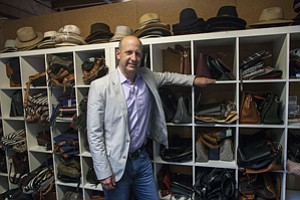 Online retailer Sole Society in Culver City is taking a step into the real world.
While the footwear and accessories brand has been selling some of its goods through Seattle department store chain Nordstrom and TV shopping network QVC, it's now planning to open its first brick-and-mortar store this fall, a move made possible by an $8 million funding round Sole Society raised this month from Nordstrom and New York investment firm Insight Venture Partners.
Andy Solomon, chief executive of Sole Society, said opening a store will help the company build the kind of brand awareness it needs to grow.
"We have quite a bit of expertise on the mechanics of customer acquisition online," Solomon said. "But if we're going to be successful long term, we need to build a brand."
The move makes Sole Society just the latest online-only retailer to see if it can capture more shoppers, and more revenue, by going offline. Downtown L.A.'s NastyGal opened its first brick-and-mortar store last year on L.A.'s Melrose Avenue shopping strip and another in Santa Monica this year. New York men's e-commerce site Bonobos, in which Nordstrom has also invested, has been opening retail shops recently and Warby Parker, a New York-based online seller of eyeglasses, also has a handful of its own brick-and-mortar stores.
John Tomich, chief executive of e-commerce services company Onestop Internet in Rancho Dominguez, said online brands going offline is a smart move, one that makes just as much sense as traditional retailers establishing an online presence.
"It's all about acquiring customers wherever they are," he said. "There's a certain portion of customers that like to buy at brick-and-mortar stores."
Mixing it up
Sole Society got its start in 2011 as sister site to HauteLook, a flash-sale site selling designer goods at discount. But when Nordstrom acquired HauteLook that same year for an estimated $270 million in stock, the shoe site spun off as a separate company.
Today, the company's open office space in Culver City has 40 employees and handles everything in house, from buying and customer service to shooting photos of products for its website as well as producing its first print catalog, which will be distributed this fall.
Solomon said when Nordstrom acquired HauteLook that it became apparent the shoe site needed to spin off – and branch out – if it wanted to grow. That's just what the company has done.
Two years after going out on its own, with initial investment from Nordstrom, Insight Venture and Century City's Lagovent Ventures Group, the company added handbags and accessories, such as jewelry and hats, to its product mix.
Sole Society introduces as many as 25 shoe styles a month and as many as 15 bags and accessories. Shoes sell for $59 to $149, other products range from $20 to $90. Now the company is expanding into apparel, partnering this month with L.A. brand StyleSaint to offer T-shirts and dresses priced from $38 to $119.
Next up is opening a retail store. While Sole Society has had success online and through its wholesale partnerships with Nordstrom and QVC, Onestop's Tomich said brick-and-mortar retail presents a different set of challenges.
"It's all about location," Tomich said. "You need to have a strong planning allocation, inventory control and merchandising in the company but really scale that up with brick-and-mortar stores."
He added that having Nordstrom as a partner can be beneficial for Sole Society as the retail giant has extensive experience in the brick-and-mortar space.
"I think (Sole Society) will learn a lot," he said. "Nordstrom has a good history of letting businesses flourish."
Sole Society's Solomon added that having Nordstrom as a partner will give the company an opportunity to get advice as the brand continues to grow.
Sole Society hasn't settled on a location for its retail store, but Solomon expects it will open later this year in the L.A. area. When it opens, he said that the focus will be to attract customers and build the Sole Society brand, regardless of whether customers shop online, in the store, at Nordstrom or through QVC.
"In the end, she doesn't really care if she's buying it online, at Nordstrom or in store," he said of his ideal shopper. "If the value is right and the style is right and the quality is right, then we're going to build a loyal customer."
For reprint and licensing requests for this article, CLICK HERE.