Former Phone Exec Taps Parents
Technology: Lin Miao gets family loan to keep incubator alive.
Monday, January 27, 2014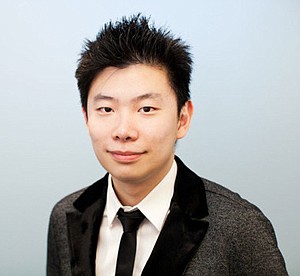 Before he was hit with scam accusations by regulators late last year, Lin Miao promised to bring a splash of glamour to the L.A. tech scene. His startup incubator, Be Great Partners, boasted sweeping views from offices near the top of a Miracle Mile office tower, threw open-bar parties featuring Hollywood club DJs, and courted celebrity and entertainment industry investors.
But when a judge froze Miao's assets this month, the 27-year-old resorted to a more modest way to keep the business going: asking his parents for money.
Last week, regulators at the Federal Trade Commission agreed to allow Miao's parents to loan Be Great $125,000 to keep the incubator afloat. The move follows a preliminary injunction ordered by a federal judge earlier this month against Miao, his former business partner, their former company Tatto Inc. and seven related businesses.
The FTC sued Miao and Tatto in December, alleging that he and his former partner conducted a $100 million-plus scam to place charges on people's cellphone bills without permission.
The injunction means that the assets of Miao and his previous companies will be frozen until the FTC's case ends, which could be more than a year if Miao does not settle. It also prevents him from personally earning money or incurring debt.
But the court is still allowing Be Great, which Miao founded after reportedly selling Tatto for $60 million in 2011 and is not part of the allegations, to continue operating. He is also allowed to pay property taxes on his Beverly Hills home, which records show he purchased in July for $1.8 million.
Michael Mallow, an attorney at Century City's Loeb & Loeb who reviewed the case for the Business Journal, said that the injunction signals the case has become "far more serious," because a judge has ruled that the FTC is likely to prevail. He said regulators could still use Miao's stake in Be Great if he is compelled to pay back Tatto consumers.
"The concept is that by operating, the business provides value should there be need for consumer redress, but it's not going to benefit Miao," he said. "The judge has put extraordinary limitations on Miao's access to capital in the forms of assets or debt."
Miao's attorney declined to comment. Be Great did not respond to a request for comment.
After selling Boston-based Tatto and moving to Los Angeles, Miao founded Be Great last year, promising to invest in 500 startups.
Prev Next
For reprint and licensing requests for this article, CLICK HERE.