Former Demand CEO's Whipclip Gets $20 Million
Wednesday, December 3, 2014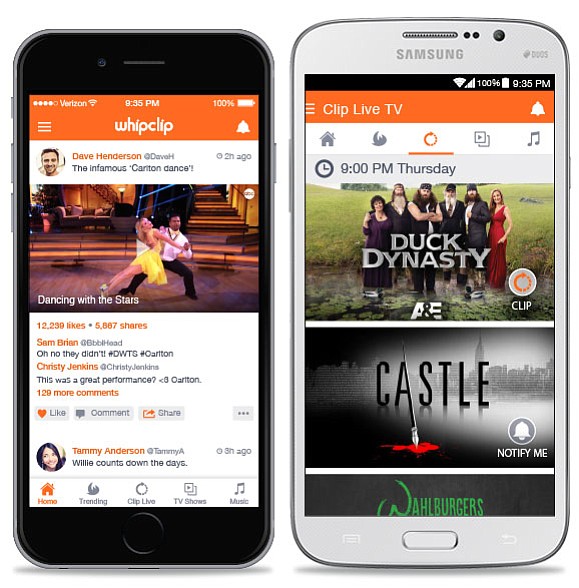 Whipclip, a video-sharing mobile app from Demand Media's founder and former chief executive Richard Rosenblatt, has launched in private beta after raising $20 million in total financing.
The round gives the app a staggering early valuation of more than $100 million, the Santa Monica startup said. The money will go toward product development and operations.
Whipclip said 70 percent of users are online while watching TV and tweet about shows nearly 100 million times a month. But those tweets are coupled with links to grainy videos that are often manipulated to avoid copyright infringements.
The new venture co-founded by Rosenblatt, who left the head post at Santa Monica's Demand last year, and RayV co-founder Ori Birnbaum, wants to give TV viewers an easy and legal way to share video content with the blessing of studios. Fans can input keywords, quotes and hashtags in the app's search engine to find video snips that are shareable on Twitter, Facebook, Pinterest and Tumblr.
ABC, CBS and A&E Networks have signed on to test a limited selection of their video content on the app. Whipclip, which has 25 employees between its offices in Santa Monica and Tel Aviv, Israel, is currently accepting sign-ups on its site to try out the app before public release.
"Our vision at Whipclip is to provide a new way for consumers to share TV, in partnership with the leading networks and content providers, around some of their most popular programming and events," Rosenblatt said in a statement.
Financing came from Raine Ventures, IVP, William Morris Endeavor, Ziffren Brittenhanm LLP and Greycroft Partners as well as a number of solo investors.
Staff reporter Melissah Yang can be reached at MYang@labusinessjournal.com. Follow her on Twitter @MelissahYang for the latest in L.A. tech news.
For reprint and licensing requests for this article, CLICK HERE.