Demand Media CEO to Resign
Monday, October 14, 2013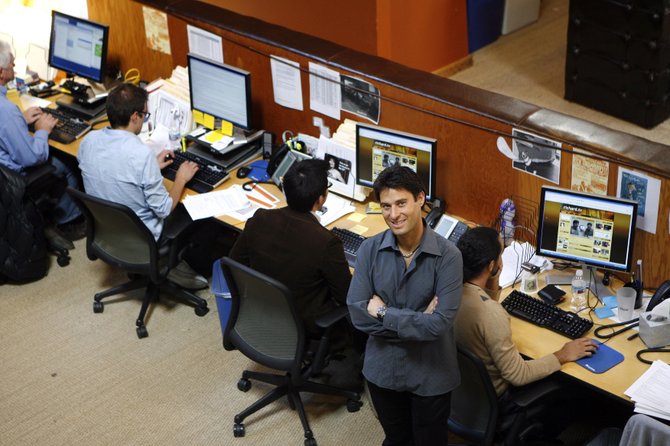 Demand Media announced Monday afternoon after the market closed that Richard Rosenblatt will step down as chief executive at the end of the month.
The board has named Shawn Colo, who co-founded of the Santa Monica digital media company with Rosenblatt in 2006, interim president. He will become interim chief executive when Rosenblatt's resignation goes into effect on Oct. 31.
Rosenblatt also has resigned as chairman. Board member James Quandt, who serves as managing partner at Thomas James Capital in Aliso Viejo, has been named interim chairman.
"I want to thank everyone that helped to make Demand Media a leading content creation and media company," Rosenblatt said in a statement. "It has been a great honor to work with our investors, board and brilliant team over the past 7 years. I realize that all journeys must ultimately come to an end and want to wish Shawn and the entire team success as they continue to grow the business."
In the statement the company said that the board will begin searching for a permanent chief executive shortly.
Demand Media has been in the process of spinning off its registrar business, including properties eNom and Name.com, from its media and content business, led by how-to website eHow, by early next year. The company said that it remains committed to completing the transaction but may have to reevaluate the timing of the separation.
Sameet Sinha, an analyst with B. Riley in San Francisco, said Rosenblatt's resignation is likely related to Demand's poor performance in recent quarters.
In August the company reported overall revenue growth, but saw slipping traffic and declining revenue at its portfolio of websites. Demand has been making efforts to become less reliant on revenue generated through advertising and has acquired a handful of subscription commerce services, including crafting website Creativebug and art marketplace Society6.
Sinha said that naming Colo as interim chief executive signals that the company was looking for a fix to its recent traffic declines.
"That tells me that it's not the long-term strategy of the company that's coming into question," he said. "Shawn was one of the guys who architected the company, so I think it had more to do with the near-term results."
Demand's stock closed even for the day at $5.85 on the New York Stock Exchange.
For reprint and licensing requests for this article, CLICK HERE.