New Ball Game At News Station
RADIO: KFWB turns to sports programming to score listeners.
Monday, August 18, 2014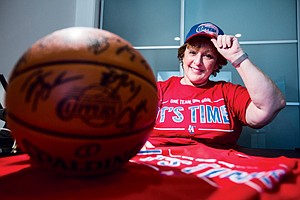 News-talk KFWB-AM (980) has found its way toward the bottom of the L.A. radio ratings – only a classical music station ranks lower. But as the station prepares to switch to all sports next month, executives are hoping the change will play into their strategy to get more listeners, and improve prospects for a sale.
The Miracle Mile broadcaster notified staff of the changeover late last month and warned that dozens of employees will be let go at the end of this month.
In going all sports, KFWB is jumping in to compete with at least three other local sports stations for audience share. But Thom Callahan, president of the Southern California Broadcasters Association, said he still thinks there's room for more sports on the dial.
"It's a smart move," he said. "The interest in sports in this region is phenomenal. Some would say it's a crowded field but there's room for twice as many."
Local radio columnists have been less enthusiastic. Tom Hoffarth wrote in the Los Angeles Daily News that "Southern California proper probably needs another all-sports radio station like the ozone layer needs another hole."
KFWB's programming now includes a mix of news and talk in addition to Los Angeles Clippers games and other sports shows. Business Journal reporters have been doing a brief weekly on-air discussion of a local business story with the station's staff for years.
The change comes as KFWB's ratings are near the bottom of the L.A. market. In July, the station was tied for 42nd place, with an average audience share of two-tenths of one percent of listeners 6 and older. Of all stations tracked by ratings firm Arbitron, only classical music station KMZT-AM (1260) had a lower share.
With its new format, KFWB will be broadcasting nationally syndicated programming from CBS Sports Radio, including a three-hour weekday show hosted by Jim Rome. Last week, the station also said Rome would contribute to other shows on the station.
Broadcasting syndicated sports programming is cheaper than producing local shows. In a typical network agreement with the likes of CBS Sports Radio, the station gets the programming and gives up some ad spots to the network in a barter agreement.
Meanwhile, the station is being shopped for sale by KFWB Asset Trust. Diane Sutter, head of the trust, said the all-sports programming could make the station a better takeover target.
"I'm hopeful this could make the station more attractive to potential buyers," she said.
Channel change
This is just the latest of a number of changes to KFWB's programming over the years, since the station was launched by Warner Bros. co-founder Sam Warner in 1925. The station switched from top 40 to all news in 1968 and competed for decades with KFI-AM (1070). CBS Corp. took ownership of the station after it merged with Westinghouse Electric Corp. in 1995, and introduced a news-talk format five years ago when talkers such as Dr. Laura Schlessinger were added to the lineup. However, she left the next year and there have been other programming changes since.
The CBS purchase of KCAL (Channel 9) in 2002 put the company over the Federal Communications Commission's limit for the number of TV and radio stations a single company can own in a given market. After years of taking no action on the matter, CBS Radio handed over the station's operations to KFWB Asset Trust in 2011 with the goal of a sale.
Sutter, who is chief executive at L.A. broadcasting services firm ShootingStar Broadcasting, is the station's trustee. She has been working with Media Venture Partners of San Francisco to find a buyer. The station has received offers, but hasn't reached its target price, a Media Venture executive said.
Among the news-talk programming that will be replaced next month is a morning news show hosted by Penny Griego and Phil Hulett as well as "Money 101," hosted by Bob McCormick.
Some of the sports programming will be merged into the new grid. Clippers games, for example, will be a lynchpin in the new format, and the station will also continuing to air a weekly hourlong USC sports show, "Trojans Live," during football and basketball seasons.
Sutter said she was expecting to hire a programming director for the station by the end of last week.
Radio trade publications have reported that the new station will be called the Beast.
Sports radio competition includes ESPN Radio affiliate KSPN-AM (710), home of the Los Angeles Lakers, and Fox Sports affiliate KLAC-AM (570), which broadcasts Los Angeles Dodgers games. The station owned by the Los Angeles Angels of Anaheim, KLAA-FM (830) of Orange, also reaches many L.A. listeners.
Don Martin, senior vice president of sports at Clear Channel, the parent company of Dodgers station KLAC, said he already had considered KFWB a local sports station based on its Clippers games and other sports shows. But now that the station is going all in, he said it speaks to the opportunity in the market.
"It lets you know that the sports marketplace must be doing well," Martin said. "The folks that run KFWB did their homework and felt they could carve out something for themselves."
For reprint and licensing requests for this article, CLICK HERE.