New Ball Game At News Station
RADIO: KFWB turns to sports programming to score listeners.
Monday, August 18, 2014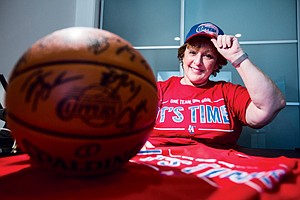 News-talk KFWB-AM (980) has found its way toward the bottom of the L.A. radio ratings – only a classical music station ranks lower. But as the station prepares to switch to all sports next month, executives are hoping the change will play into their strategy to get more listeners, and improve prospects for a sale.
The Miracle Mile broadcaster notified staff of the changeover late last month and warned that dozens of employees will be let go at the end of this month.
In going all sports, KFWB is jumping in to compete with at least three other local sports stations for audience share. But Thom Callahan, president of the Southern California Broadcasters Association, said he still thinks there's room for more sports on the dial.
"It's a smart move," he said. "The interest in sports in this region is phenomenal. Some would say it's a crowded field but there's room for twice as many."
Local radio columnists have been less enthusiastic. Tom Hoffarth wrote in the Los Angeles Daily News that "Southern California proper probably needs another all-sports radio station like the ozone layer needs another hole."
KFWB's programming now includes a mix of news and talk in addition to Los Angeles Clippers games and other sports shows. Business Journal reporters have been doing a brief weekly on-air discussion of a local business story with the station's staff for years.
The change comes as KFWB's ratings are near the bottom of the L.A. market. In July, the station was tied for 42nd place, with an average audience share of two-tenths of one percent of listeners 6 and older. Of all stations tracked by ratings firm Arbitron, only classical music station KMZT-AM (1260) had a lower share.
With its new format, KFWB will be broadcasting nationally syndicated programming from CBS Sports Radio, including a three-hour weekday show hosted by Jim Rome. Last week, the station also said Rome would contribute to other shows on the station.
Broadcasting syndicated sports programming is cheaper than producing local shows. In a typical network agreement with the likes of CBS Sports Radio, the station gets the programming and gives up some ad spots to the network in a barter agreement.
Meanwhile, the station is being shopped for sale by KFWB Asset Trust. Diane Sutter, head of the trust, said the all-sports programming could make the station a better takeover target.
"I'm hopeful this could make the station more attractive to potential buyers," she said.
Prev Next
For reprint and licensing requests for this article, CLICK HERE.