Sequencing Venture Capital
Special Report: Tech Finance
Monday, April 15, 2013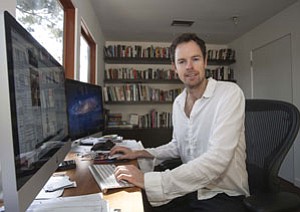 Stage 1, Pre-Seed: Friends & Family
It's no surprise to Mark Epstein that his son, Corey, has developed a knack for building businesses. The elder Epstein started a Denver technology company in the 1980s and later took it public.
So when Corey Epstein approached his father last summer with an idea to start an e-commerce company to sell men's clothing on the cheap, Epstein didn't hesitate to pledge money to help the venture.
"When Corey told me he was interested in doing this, I totally supported him going out and making that change," said Epstein, 59. "As long as he had done the research, I probably would have backed anything he wanted to do."
Epstein participated in what is commonly referred to as a friends and family investment. These deals are more nebulous than other startup investments because they often happen before a company has even established an office, hired its first employees, or started selling a product or service.
The size of the deal can vary greatly depending on a venture's startup costs.
Corey Epstein said he wanted to own as much of the business at the beginning as possible. So he put $150,000 of his own money into 20Jeans and then reached out to friends and family for an additional $25,000.
Raising money from loved ones can help a founder make it through a startup's early stages before tapping more established investors. But it also comes with its own set of problems: namely, the risk of mixing business with family.
Both Epsteins took steps to ensure that a sticky financial situation would not ruin their relationship. Corey Epstein, for instance, made sure he was financing the majority of his company in the early days. And Mark Epstein, now retired, made only a small investment.
"My future doesn't depend on his success," said the senior Epstein. "I'm glad I'm in a position where I can help him out and where it won't negatively impact me if something goes wrong."
Stage 2, Angels: Early Round Integral to Growth
The surge in startup activity in Los Angeles has created a steady stream of potential deals for the local community of angel investors.
Though angel investments often occur under the radar, the wealthy people behind the deals are integral to the funding ecosystem. Angels help startups – many of them without proven business models – fill the gap between raising money from friends and family and reaching out to institutional investors that will take significant ownership cuts.
For reprint and licensing requests for this article, CLICK HERE.
Prev Next