Sowing Startups
Special Report: Tech Finance
Monday, April 15, 2013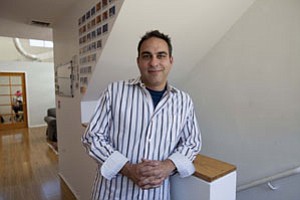 Adam Lilling doesn't keep track, but if he ventured to guess, he'd put it at 10. That's the number of inquiries he gets each day from local tech entrepreneurs looking to his firm, Plus Capital, to find investors.
Plus Capital is barely two months old and has made only three investments to date, yet the flurry of companies knocking at the fund's door with a pitch and a PowerPoint presentation belies its youth.
Indeed, as L.A.'s so-called Silicon Beach continues to produce startups, the venture capital community, once a vestige of the tech bubble, has found new popularity. In 2012, $1.3 billion was invested in local businesses, an 18 percent jump from the previous year according to data from PriceWaterhouseCoopers and the National Venture Capital Association.
In recent years, financiers to L.A.'s tech community have sprung up, beefed up or moved in. It's brought people like Lilling, formerly an entrepreneur and now a mentor at the Santa Monica tech accelerator LaunchPad LA, to the other side of the table. Some are choosing to reinvest their own money, such as David Waxman and Gil Elbaz of Santa Monica's new TenOneTen Ventures. Waxman founded a pair of startups, while Elbaz's first company, Applied Semantics, was sold to Google in 2003 for $103 million.
That's becoming a common story in Los Angeles and a vital part of the market, said Mark Suster of Century City's GRP Partners.
"There's a lot of second- and third-generation entrepreneurs; all the people who made money 10 or 20 years ago are putting in recycled capital," said Suster, who's a two-time entrepreneur as well and boarded the venture capital bandwagon in 2007. "When the hat gets passed around I say, 'Yeah, I'd like to see another great L.A. company.' "
This new group of tech bankrollers has its own community that's distinct and far more casual than the more buttoned-down professionals that might meet for a $150 lunch at Craft in Century City or some similar spot in Beverly Hills or downtown Los Angeles. Lilling's favorite meeting spot is Le Pain Quotidien, an organic bakery known for communal tables made of reclaimed wood. It's not far from LaunchPad, where his fund has its office.
In fact, at midday the coffee shops and lunch spots of Silicon Beach can be full of tech investors. Some meet at the Refinery on Santa Monica Boulevard, others at Peet's Coffee on Main Street.
Prev Next
For reprint and licensing requests for this article, CLICK HERE.