Investors Shell Out $75 Million to Join Fast-Fashion Site
Monday, August 13, 2012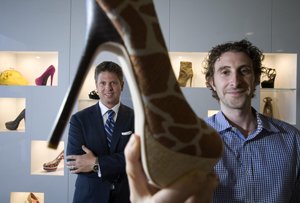 Adam Goldenberg came into the online fashion world in 2010 with a limited knowledge of women's clothing, let alone shoes.
Long a frumpy dresser, one of his prior businesses was running a video gamers' community site, which he freely admits is "not a group of fashionable people."
But he's learned fast fashion fast.
In two years, Goldenberg and business partner Don Ressler have turned their El Segundo online shoe retailer, JustFabulous, into a company they say is gaining 500,000 members a month and has hit the $100 million mark in annual revenue.
In an online retail space crowded with monthly membership fashion sites, these numbers – along with a recently announced $76 million round of venture capital funding – have lifted JustFab.com's profile. It also lends some credence to the big ambitions of its co-founders, who compare it to the world's leading fast-fashion retailers.
"We're creating the next H&M or the next evolution of Zara," said Goldenberg, co-chief executive. "In the next three to five years, anything that you'd find (there), we'll ultimately sell."
The duo has other reasons to be boastful, including a design partnership with high-profile celebrity stylist Kimora Lee Simmons, who took a stake in the company and became its president and creative director in September.
Then there's the growing evidence that the company is riding one of the biggest crazes in women's retailing: membership fashion sites that create individual boutiques based on a user's individual style. JustFabulous reports having more than 6 million members, while ShoeDazzle.com Inc., an L.A.-based online apparel retailer that's partnered with Kim Kardashian, announced last week that its site added 1 million members in July and now has 13 million active users.
Both companies are rapidly expanding their product lines to include handbags, jewelry and denim to take advantage of accelerating sales trajectories. JustFabulous has already expanded to Canada and Germany, with plans to move into the United Kingdom and the rest of Western Europe by 2013.
The goal of competing with Stockholm, Sweden, fast-fashion giant H & M Hennes & Mauritz AB might seem far off for a company one-quarter its size, but analysts say the infrastructure and customer relationship of online fashion clubs can be more advanced than chain retailers.
"They're able to turn around merchandise and speed it to a market that they have down perfectly," said Hitha Prabhakar, a New York-based independent fashion industry analyst and an expert on e-commerce. "That's something H&M (is) just not capable of doing."
Joining the club
Goldenberg and Ressler have online bona fides. Goldenberg's high school video gamers site and a fitness site Ressler owned were bought out by Intermix Media Inc., the parent of pioneering social media site Myspace. The pair became co-chief executives at Intermix, which was sold along with Myspace in 2005 to New York-based News Corp.
The duo stayed less than a year at Rupert Murdoch's company before leaving to start Intelligent Beauty, an El Segundo company that built up a sizable business with Sensa, a weight-loss brand, and Dermstore, an online skin care retailer. JustFabulous is a portfolio company of Intelligent Beauty.
Their decision to start JustFabulous in 2010 came a year after ShoeDazzle and Beachmint, a Santa Monica-based online retailer, began their shoe sales sites. All of that came after the success of online shoe retailer Zappos.com Inc., acquired by Seattle's Amazon.com Inc. in 2009 for close to $1 billion when the market for online clothes shopping began to take hold.
"Zappos really paved the way for women buying shoes online," Ressler said. "We took it to the next level."
Fashion clubs operate under the same premise.
First, a prospective customer fills out a fashion survey that determines what style dresser she is, and then the site sends out monthly fashion e-mails with shoe, handbag, and accessory recommendations tailored to her tastes. At the beginning of the month, a subscriber has the option to pay a $39.95 membership fee – the same for all three sites – which lets her choose any recommended item. A member also can skip the payment or buy more than one item, all priced at that same $39.95.
The standardized pricing model was designed to take any painful fashion compromises because of cost out of the equation.
"Everything that we sell, you know that price point and you're not thinking about price when you shop," Goldenberg said. "You're just thinking, 'Do I like the item?' "
The idea is to get a member looking at the site regularly and browsing through the selection. According to figures from JustFabulous, the average member checks on her recommendations 25 to 30 times a year.
JustFabulous's products are all one in-house brand created by the Simmons-led design team. She came to the company on the heels of her success at Baby Phat, an urban fashion line that was sold to Cincinnati-based Macy's Inc. Simmons was not made available for comment.
Online fashion clubs also offer access to a team of fashion experts who are on call 24 hours a day. JustFabulous employs 50 stylists in El Segundo and 90 more at a Charlotte, N.C., center, who offer members fashion advice over the phone or through the website.
There also is an inherent community aspect to this kind of shopping that fits well with the Internet's increasingly social nature. JustFabulous currently has 1.1 million followers on Facebook; ShoeDazzle has more than 2 million.
The communities have developed enough so that last year a group of 30 JustFabulous users decided on their own to plan a meeting in Texas. Some even came from out of state. When executives heard about the gathering, they flew in some stylists to give sneak peeks at upcoming lines.
Direct to customer
An essential part of the business model of the clubs also is the removal of third-party retailers. JustFabulous' designs are manufactured at factories in China and imported to a stateside distribution center in Louisville, Ky., where they are shipped directly to customers.
The personal knowledge that fashion clubs have about their members gives them a good indication of which product to order, which eliminates the amount of overstocking that plagues brick-and-mortar retailers.
"We know their shoe size and dress size, so it takes the sizing out of the equation when you're buying inventory," Goldenberg said.
Marketing also has become a central part to selling the online brands. JustFabulous spends more than $10 million on television, radio and online advertising, which has propelled its growth. That made it an appealing investment choice for Rho Capital, a Palo Alto venture capital firm that focuses on online investments and led the recent $75 million fundraising round.
"What we saw was a company that completely delivered on its plan," says Mark Leschly, a managing partner at Rho, who will also join the board at JustFabulous. "It doesn't happen that often that people beat expectations, which really impressed us."
Other high-tech venture capital firms joined the funding round, including Matrix Partners in Waltham, Mass., and Technology Crossover Ventures in Palo Alto. Matrix led JustFabulous's first round of funding in 2011, which raised $33 million.
The fashion clubs have their challenges, though, and the largest one ironically is the attractive pricing model. While flat fees might pull in consumers, they can also box in a company. If manufacturing costs rise, online fashion clubs are faced with a decision: eat the higher costs or raise the monthly fee.
"The business model is primarily dependant on the company's ability to manufacture and sell goods cheaply," said analyst Prabhakar. "If high costs make (a company like) JustFab raise its flat fee, you could really see customers push back."
In March, ShoeDazzle, led by new Chief Executive Bill Strauss, ditched the subscription model it pioneered for a more open system that gives monthly product suggestions to anyone who takes its survey. Most of the goods still cost $39.95 but customers are not automatically charged a monthly fee.
Executives said the move addressed gripes about automatic charges and gives the company the flexibility to raise prices.
"Customers didn't want to feel obligated to buy anything," said Strauss. "It was something they either didn't think about or otherwise created some friction. We didn't want any friction."
He said the move to an open model is what fueled ShoeDazzle's July addition of 1 million members.
JustFabulous admits some customers complained early on about automatic charges they forgot to skip. But Goldenberg maintains that subscription customers have a higher value and generally buy more items. Plus, he added, the majority like the system.
"People are willing to have an obligation if they get something back in return," he said. "The thing about Costco and Sam's Club, you pay a membership fee and get great savings. We're the same way."
For reprint and licensing requests for this article, CLICK HERE.