Space Case
Defense exodus swells South Bay vacancies
Monday, May 30, 2011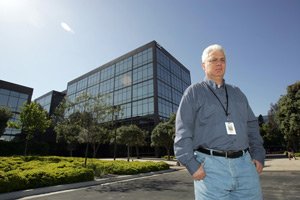 In Rhythm & Hues Studios Inc.'s new El Segundo office, 20-something computer artists in T-shirts, sneakers and jeans are designing
3-D images for the latest Hollywood flick.
A little more than two years ago, Computer Sciences Corp. software engineers with pocket protectors were doing classified work there for the Defense Information System Agency.
That kind of change is not unusual.
Aerospace and defense contractors in the South Bay, including Boeing Co., Northrop Grumman Corp. and Raytheon Co., have been quietly shuttering offices as the government slashes defense spending and the industry migrates closer to Washington. That has left 420,000 square feet of space vacant since the beginning of this year and 1.2 million square feet since January 2010.
The newly available space has attracted some creative and high-tech companies, which see an opportunity to leave pricier Westside digs and take advantage of good deals.
"El Segundo was attractive in that real estate was cheaper," said Rhythm & Hues Chief Financial Officer David Weinberg. "We were two miles north of LAX and now we're a mile south, so it wasn't that much of a move."
The company spent $26 million to acquire its 100,000-square-foot headquarters, as well as two buildings totaling just over 100,000 square feet, from Computer Sciences.
However, with the 31 million-square-foot office market giving back nearly 390,000 square feet of office space in the first quarter alone – the most of any submarket in Los Angeles County – there is still a lot of empty space.
The market's vacancy rate has risen 1.3 points over the past year to 19.3 percent, while per-square-foot asking rents have fallen eight cents to $2.19 just since January, according to Grubb & Ellis Co.
"The market is going to experience pain over the next 24 months as there is a releasing of space," said broker Bill Bloodgood, a senior vice president at CB Richard Ellis Group Inc. who specializes in the South Bay. "It definitely is another shift in the market. But at the end of the day you'll look back and say, 'We have a lot of new tenants,' but we have to get there."
Defense déjà vu
This is not the first time the region has experienced a cutback in aerospace. At its height in the late 1980s, the aerospace industry employed about a quarter-million workers countywide, with the epicenter in the South Bay. By the mid-1990s, employment had been cut in half due to Defense budget cuts after the end of the Cold War.
It took nearly seven years for the real estate market to recover, Bloodgood said, as multiple companies went out of business. For example, tactical missile manufacturers fell from 13 to five and satellite manufacturers from eight to four. Eventually, some of the defense companies took some space back, and the area diversified. Media and entertainment companies moved in, as did those in health care, finance and international trade.
This time around, the employment losses aren't nearly as great. For example, there were 37,000 workers employed countywide in aerospace products and parts manufacturing in January 2010. That was down to 35,700 last month. The figures are only partial, and do not cover, for example, defense-related engineering jobs. Still, the job losses have resulted in significant vacancies.
Computer Sciences has been pulling back from the county since it announced in January 2008 it was moving its headquarters to Falls Church, Va. The company has vacated well over 100,000 square feet since then.
Similarly, Northrop announced last year that it was moving its headquarters from Century City to the Washington, D.C., area to be closer to its prime customer: the U.S. government.
The company retains major operations in the county, but last year vacated 186,000 square feet in San Pedro, where it had corporate and information systems jobs. It vacated an additional 215,000 square feet early this year in El Segundo, where it had satellite and space station operations.
Meanwhile, it laid off 500 county employees in finance and human relations positions, and this summer is set to vacate its 140,000-square-foot headquarters at 1840 Century Park East, where 350 workers have been employed.
Boeing also continues to have major operations in the county, but after a slowdown in satellite orders, it laid off 400 workers in El Segundo, and vacated 400,000 square feet in the city at satellite-division offices at 2260 E. Imperial Highway and 400 Continental Blvd.
Some of the departures are more difficult to track. Raytheon Co., which is based in Waltham, Mass. but has a 1 million-square-foot campus in El Segundo, abandoned 198,000 square feet at 800 Apollo St. in the city. It was working on a highly classified project and has disclosed little about the departure.
Steve Cramer, a managing director at Jones Lang LaSalle Inc., believes there is still going to be a large amount of empty real estate in the South Bay for a while.
"Vacancy of buildings that are greater than 100,000 square feet has a huge impact because there isn't anybody out there to occupy those buildings," he said. "The kinds of space they are vacating are larger spaces and those spaces are not readily adaptable for multitenant uses so the bulk of those buildings look for large tenants."
New users
However, Bloodgood said that the area may be able to attract new defense industry startups. He noted there is still a large concentration of defense businesses, and the Los Angeles Air Force Base remains on Aviation Boulevard in El Segundo.
"It is where the contracts are administered by the Air Force, so anyone doing business with the Air Force has a local presence. They all want to be in walking distance right around the base," he said.
Nancy Sidhu, chief economist of the non-profit Los Angeles County Economic Development Corp., said other tenants may be attracted, noting the market hasn't seen such cutbacks for years, and there are big blocks of space newly available.
"The folks who own and manage those leased properties now have the opportunity to sell what sounds to me like fairly large blocks of space and into a market where there may be some interest," she said.
Rhythm & Hues fits into that category, by taking 200,000 feet off the market in its headquarters deal. It has leased back one of the smaller buildings to Computer Sciences, while the third building is virtually unoccupied.
The deal was completed in 2009 after Computer Sciences announced it was moving to Virginia, and Rhythm & Hues moved in less than a year ago. CFO Weinberg said the move has worked out well.
"When you walk around the area, it feels somewhat diverse; it doesn't feel like just defense contractors. But you go into the salad bar, and there are guys in fatigues. It takes some getting used to," he said.
Bob Tarnofsky is the director of real estate for Continental Development Corp., an El Segundo real estate company that owns the Apollo Street building.
In the early 1990s, Continental Development saw defense contractors TRW Inc. and Hughes Electronics Defense vacate the entirety of a building in Continental Park, a large office complex it owns in El Segundo. The departure posed some odd challenges.
"An aerospace and defense office, because of the issues of security and in certain cases secrecy, would often be found with no windows, and the modern-day office with significant natural light is the polar opposite," Tarnofsky said.
The company spent millions to renovate the building and market it to a new nondefense-oriented company. It landed oil company Unocal Corp., which moved its headquarters from downtown Los Angeles to El Segundo.
Tarnofsky is facing the same choice today with his 800 Apollo building. Interior modification could cost about $60 per square foot. His company is debating its options, but said he's in negotiations with a few interested companies.
"We're trying to think a little out of the box and get creative with adaptive reuses for the site," said Tarnofsky. "The days of just plopping one big aerospace or defense user into a building have been gone for a while."
RELATED BUSINESS JOURNAL STORY:
• Aerospace Not Completely Grounded in County.
For reprint and licensing requests for this article, CLICK HERE.