Space Case
Defense exodus swells South Bay vacancies
Monday, May 30, 2011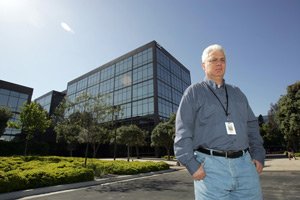 In Rhythm & Hues Studios Inc.'s new El Segundo office, 20-something computer artists in T-shirts, sneakers and jeans are designing
3-D images for the latest Hollywood flick.
A little more than two years ago, Computer Sciences Corp. software engineers with pocket protectors were doing classified work there for the Defense Information System Agency.
That kind of change is not unusual.
Aerospace and defense contractors in the South Bay, including Boeing Co., Northrop Grumman Corp. and Raytheon Co., have been quietly shuttering offices as the government slashes defense spending and the industry migrates closer to Washington. That has left 420,000 square feet of space vacant since the beginning of this year and 1.2 million square feet since January 2010.
The newly available space has attracted some creative and high-tech companies, which see an opportunity to leave pricier Westside digs and take advantage of good deals.
"El Segundo was attractive in that real estate was cheaper," said Rhythm & Hues Chief Financial Officer David Weinberg. "We were two miles north of LAX and now we're a mile south, so it wasn't that much of a move."
The company spent $26 million to acquire its 100,000-square-foot headquarters, as well as two buildings totaling just over 100,000 square feet, from Computer Sciences.
However, with the 31 million-square-foot office market giving back nearly 390,000 square feet of office space in the first quarter alone – the most of any submarket in Los Angeles County – there is still a lot of empty space.
The market's vacancy rate has risen 1.3 points over the past year to 19.3 percent, while per-square-foot asking rents have fallen eight cents to $2.19 just since January, according to Grubb & Ellis Co.
"The market is going to experience pain over the next 24 months as there is a releasing of space," said broker Bill Bloodgood, a senior vice president at CB Richard Ellis Group Inc. who specializes in the South Bay. "It definitely is another shift in the market. But at the end of the day you'll look back and say, 'We have a lot of new tenants,' but we have to get there."
Defense déjà vu
This is not the first time the region has experienced a cutback in aerospace. At its height in the late 1980s, the aerospace industry employed about a quarter-million workers countywide, with the epicenter in the South Bay. By the mid-1990s, employment had been cut in half due to Defense budget cuts after the end of the Cold War.
Prev Next
For reprint and licensing requests for this article, CLICK HERE.