Aerospace Not Completely Grounded in County
SIDEBAR: Space Case
Originally published May 30, 2011 at midnight, updated May 31, 2011 at 1:09 p.m.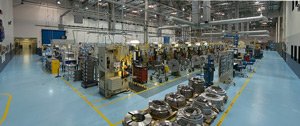 All the square feet vacated in the South Bay by major defense contractors are a painful reminder of their exodus. But the news is not completely grim for Los Angeles County as a whole.
Consider TA Aerospace. The Valencia company makes sealants and rivet covers, but they're high-tech products that help make the military's new F-35 jet fighter unseen by radar.
Since 2000, when TA began working on the project, revenue has tripled to $50 million and employment has more than doubled to 250 – even as the stealth fighter remains in testing.
"We expect significant revenue growth as the F-35 goes into full production," said Jim Sweeney, president of the company, a division of Bellevue, Wash.-based Esterline Technologies. "We've invested quite a bit in R&D."
Even though Washington is in a budget-cutting mood, the F-35 program appears safe. And it's huge. Just last week, a Pentagon forecast shocked Washington when the military said it will cost nearly $1.4 trillion to buy 2,500 of the F-35 jets and keep them operating for the next 50 years. The program is by far the costliest in current dollars the Pentagon has ever committed to.
Nancy Sidhu of the Los Angeles Economic Development Corp. said that while big-ticket programs are under Congress' microscope, stealth technology and cutting-edge weapons – a strong point for L.A. defense contractors – will play a big role in the military's future.
"The new fighters are an example of that, and at the same time there's the arrival of new gadgets," said Sidhu, noting the success of Monrovia's AeroVironment, a growing maker of drone aircraft that can be launched by hand in the battlefield.
Changing gadgets
Philip Finnegan, director of corporate analysis at the Teal Group, an Arlington, Va.-based defense consultancy, said the F-35 program not only will move forward as the United States seeks to keep ahead in stealth technology, but will have broad benefits.
Indeed, the fighter has 151 suppliers in the county that directly employ 4,300. In turn, 12,200 additional workers are supported by those suppliers. That's 16,500 jobs that depend wholly or partly on the supply chain to the fighter.
Of course, the fighter, which is assembled in Fort Worth, Texas, is still being tested. So the program has not unfolded quickly.
"It's been a slower road than expected," said Finnegan, noting the nearly 10 years the Defense Department and contractors have been working on the F-35. "But it's going to happen, and I can't imagine any aerospace sectors that won't benefit."
In another example, the Defense Department is believed to be working on a replacement for the B-2 stealth bomber, which was built by Northrop Grumman Corp. more than a decade ago at Air Force Plant 42 in Palmdale. (The project is classified.)
The work apparently is being done at the same 5,800-acre Mohave Desert site as the original one. The program reportedly has nearly $200 million in funding this year, and $3.7 billion over the next five. It's still early in the process and the program's future is unclear.
There are other examples of companies with local operations benefitting from the military's focus on aerospace weaponry.
ATK is the prime contractor for the Advanced Anti-Radiation Guided Missile, a precision air-to-ground missile that targets enemy radars.
The company is based in Minneapolis but has about 230 employees developing software, manufacturing the front-end guidance system and doing other work at its Woodland Hills plant, which has a $50 million, multiyear Navy contract.
"Our business is poised for growth, and we expect to ramp up production within 12 to 18 months," said Bill Kasting, vice president and general manager of ATK Defense Electronics Systems. "We're a small division, but we have a capability that the Navy absolutely needs and over the next 10 years we see meaningful growth."
Kasting said ATK is in talks with the Navy to determine if the missile could be used on the F-35, which would mean further orders and contracts.
Stealth defense
But for big contractors, such as Boeing Co., the story is mixed. Earlier this year, Boeing announced that it would cut 900 of 3,700 jobs at its C-17 Long Beach plant.
The four-engine transport plane has been in production since the early 1990s, but will end at the close of next year unless more buyers can be found, said Paula Shawa spokesperson for Boeing Defense, Space & Security.
"We need to bring in new customers in the international market to keep that going," she said.
Boeing, which has about 15,000 local employees and three manufacturing facilities in Long Beach and El Segundo, also recently moved its B-1 bomber and the C-130 transport programs to Oklahoma, cutting 250 jobs and relocating 550 more.
However, the company earlier this year won a huge $35 billion contract to build the Air Force's next-generation refueling tanker. The KC-46A contract will mean about 4,500 jobs in California for Boeing and its subcontractors, with most in the county.
In addition, Boeing's Space and Intelligence Systems facilities in El Segundo is the world's largest satellite manufacturing operation, with about 5,000 workers. In the last four years, about 400 positions have been cut or phased out, but Shawa said the cutbacks are finished for now.
The company last year won a $1 billion contract to deliver a satellite system to the government of Mexico. The system will include three satellites and ground-based network operations. Such contracts should continue to buoy local production.
"The demand is there for our capability," she said. "We feel we've got a pretty good thing going and expect to have additional orders."
RELATED BUSINESS JOURNAL STORY:
• Space Case: Defense Exodus Swells South Bay Vacancies.
For reprint and licensing requests for this article, CLICK HERE.