Ashok Amritraj: Net Gain
Former pro left tennis to make his points in Hollywood as a film producer.
Monday, May 23, 2011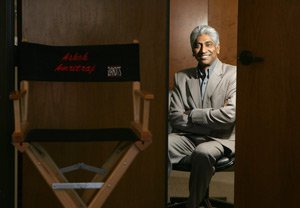 Ashok Amritraj straddles two cultures and has succeeded in two careers. Born in Madras, India, he started playing tennis as a child and reached the finals of the Wimbledon Junior tournament by 17. The brother of top-ranked player Vijay, Ashok came to Los Angeles the following year in 1975 to play for the Los Angeles Strings pro tennis team, then left tennis at 24 to pursue his dream of making movies. After five years of rejection, he made his first movie, "Fleshburn" (also known as "Fear in a Handful of Dust"). He built up producing experience in Indian TV and Hollywood, then formed Hyde Park Entertainment in 1999. Since then his credits include "Bringing Down the House," "Premonition" and "Shopgirl." Among his recent projects is one that reflects his Indian-American influences: "The Other End of the Line," about a call-center operator in India who falls in love with an American over the phone. Amritraj met with the Business Journal at his office in Sherman Oaks to discuss the switch from pro sports to Hollywood, the convergence of U.S. and Indian cultures, and the joys of spicy Indian cuisine.
Question: What brought you to Los Angeles the first time?
Answer: I played professional tennis. I came here in 1975 when Jerry Buss brought me to play for a professional tennis team he owned called the Los Angeles Strings. Jerry, of course, bought the Lakers in 1979.
What was your first impression of Los Angeles?
I loved it the moment I set foot here. I had always dreamed of coming here in connection with the movies I grew up watching in India. At the end of films by Universal there was a legend saying, "When you are in Hollywood, visit Universal Studios." It was my dream to visit Universal Studios. But I came to play tennis.
How did the team fare?
In 1978, we won the world team tennis championship. Ilie Nastase, Chris Evert, my brother Vijay and myself – we had a very good team.
What is your favorite memory of playing on the team?
Nastase was the coach, so he was supposed to calm down the team. Most often, Chris Evert and I needed to calm him down.
Did you also play the major tournaments?
Yes, at the U.S. Open and at Wimbledon through the 1970s. My brothers played, too. It was the first time in history that three brothers played a Wimbledon.
Whom did you play against?
Bjorn Borg was on another team; Martina Navratilova on another. Connors, McEnroe, Vilas – all those guys played with us. It was classic tennis.
Do you still hang out with those guys?
For the most part, I've moved on. But every few years I go back to Wimbledon and see my old friends.
Why did you stop playing?
I fell in love with the motion picture industry. I knew a lot of people in the business and thought it would be easy to switch careers. I was pretty wrong about that.
How did you get into show business?
I spent five years banging on doors and having them slammed in my face. I had a few development deals through tennis friends, but I never got a movie made. It was a very tough time. Everybody liked having me on their tennis court, but nobody wanted to give me a movie to make.
How did you finally make a movie?
I raised a little money – half-a-million dollars – and made a little film, "Fear in a Handful of Dust." It was a thriller shot in Arizona in 110-degree heat. That got me into the independent film industry. It was a good time for independent films because the videocassette market had just started. There were lots of places to sell movies with budgets of $1 million to $3 million.
What did your family think of your career switch?
When I didn't make it for the first five years, my parents asked me to come home and join the family business manufacturing cardboard boxes. It wasn't to my taste, so I decided to stay here and fight it out.
How did Indian culture influence your career?
In 1980, there was no Indian in the movie industry. There was no model, nobody's footsteps to follow. The industry looked at me as a tennis player, an Indian guy. "What's wrong with this guy?" they thought. "Go hit a forehand." It was very difficult, culturally and racially, because the business was quite white.
How did you adapt?
For me, it was a rough learning curve. Business is not as pure as sports. In tennis, the ball's either in or out. It took me a while to figure out that the motion picture industry has a lot of gray areas.
How has your career straddled the two cultures?
My interest in entertainment was to bring the worlds closer together. During the early '90s, I produced some drama TV shows in Tamil for the Indian market. We have a partnership with an Abu Dhabi company to finance films, and they are my primary sources of funding. We also have a venture with the Singapore government.
Why did you stop making Indian TV shows?
You can't produce entertainment from long distance. You have to be there. I was making films in Hollywood, and it was too difficult to travel constantly to India or try to do it by phone. It was a missed opportunity because, as I expected, the Indian TV market has dwarfed the film market.
Did you ever make a Bollywood movie?
Only one. It was India's selection for the 1998 foreign film Oscar award, called "Jeans." To make it, I brought 45 cast and crew members from India to Los Angeles.
How did it go?
They hated the food here. We were shooting a sequence in the Grand Canyon. I flew in food from an Indian restaurant in Las Vegas by helicopter. When they saw the Indian food unloaded from the chopper, they were beside themselves. We had a couple of efficient workdays after that.
What was your funniest experience in Hollywood?
Cultural experiences are always crazy. I've introduced Indian food to more studio executives and movie stars than anyone else in the world. I liked to take these guys who said they could eat spicy food to Indian restaurants. I've never had more pleasure than watching the head of a studio's face turn red as he ran out of the place.
How do you balance work and family?
I have a wonderful family that understands my work needs a significant amount of time. At the same time, I make sure that my family comes first. The longevity of my career is due to the support of my family.
Your brothers, Vijay and Anand, settled here, too.
Both are married and live here in Los Angeles. We all played tennis together, which was great because it's a lonely sport. Most players travel by themselves quite a bit, so it was nice to have my brothers with me for my years of pro tennis.
What businesses are they in now?
Vijay does commentary in Asia for tennis tournaments on Star TV. His life still revolves around tennis. Anand is into real estate investing. He also has a tennis club in Long Island.
Do you have any sisters?
No, only brothers; no sisters or nieces. My daughter is the only girl born into our family. When the doctor told me, I said, "Are you crazy? We don't have daughters in this family." It was hard to come up with a name.
What more do you want to do in your life?
What more can you ask for? Coming from India, playing at Wimbledon and making movies. I've been lucky.
Ashok Amritraj
Title: Chief Executive
Company: Hyde Park Entertainment
Born: Madras (now Chennai), India; 1956
Education: B.A. in history, economics and politics from Loyola College in Madras, India.
Career Turning Point: Leaving a pro tennis career to break into the movie business.
Most Influential People: Older brother Vijay, a tennis player who ranked in the top 20 worldwide.
Personal: Approaching 20-year anniversary in his arranged marriage; daughter, 17, and son, 13. Family lives in Sherman Oaks
Hobbies: Tennis and travel; returns to Chennai, India, every eight weeks to visit family.
For reprint and licensing requests for this article, CLICK HERE.