Ashok Amritraj: Net Gain
Former pro left tennis to make his points in Hollywood as a film producer.
Monday, May 23, 2011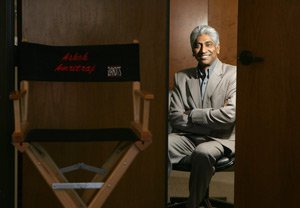 Ashok Amritraj straddles two cultures and has succeeded in two careers. Born in Madras, India, he started playing tennis as a child and reached the finals of the Wimbledon Junior tournament by 17. The brother of top-ranked player Vijay, Ashok came to Los Angeles the following year in 1975 to play for the Los Angeles Strings pro tennis team, then left tennis at 24 to pursue his dream of making movies. After five years of rejection, he made his first movie, "Fleshburn" (also known as "Fear in a Handful of Dust"). He built up producing experience in Indian TV and Hollywood, then formed Hyde Park Entertainment in 1999. Since then his credits include "Bringing Down the House," "Premonition" and "Shopgirl." Among his recent projects is one that reflects his Indian-American influences: "The Other End of the Line," about a call-center operator in India who falls in love with an American over the phone. Amritraj met with the Business Journal at his office in Sherman Oaks to discuss the switch from pro sports to Hollywood, the convergence of U.S. and Indian cultures, and the joys of spicy Indian cuisine.
Question: What brought you to Los Angeles the first time?
Answer: I played professional tennis. I came here in 1975 when Jerry Buss brought me to play for a professional tennis team he owned called the Los Angeles Strings. Jerry, of course, bought the Lakers in 1979.
What was your first impression of Los Angeles?
I loved it the moment I set foot here. I had always dreamed of coming here in connection with the movies I grew up watching in India. At the end of films by Universal there was a legend saying, "When you are in Hollywood, visit Universal Studios." It was my dream to visit Universal Studios. But I came to play tennis.
How did the team fare?
In 1978, we won the world team tennis championship. Ilie Nastase, Chris Evert, my brother Vijay and myself – we had a very good team.
What is your favorite memory of playing on the team?
Nastase was the coach, so he was supposed to calm down the team. Most often, Chris Evert and I needed to calm him down.
Did you also play the major tournaments?
Yes, at the U.S. Open and at Wimbledon through the 1970s. My brothers played, too. It was the first time in history that three brothers played a Wimbledon.
For reprint and licensing requests for this article, CLICK HERE.
Prev Next