Culver City Firm Dialed In to Making Twitter Pay
Culture Jam compensates users for their tweets promoting brands.
Monday, September 20, 2010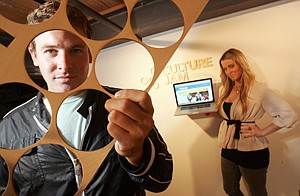 More people than ever are tweeting on Twitter – as you read this, millions are making pithy comments about their least favorite celebrities and the joy or pain of the baseball game they're watching – but no one's making money from it, right?
Wrong. A Culver City startup is among the vanguard of small tech companies striving to turn all those tweets into profits.
Culture Jam, founded in 2008 by brother-sister team Matt and Amanda MacNaughton, gives Twitter users free stuff in exchange for a tweet about a musician, group or business. Want that new Pearl Jam song for free? Tweet about it and Culture Jam will give you a special code to download the song from iTunes. And Culture Jam gets paid for running this tweet-based promotional campaign.
"We reward people for telling their friends that they like a brand," said Amanda MacNaughton, the startup's chief marketing officer.
Culture Jam launched its first campaign last year to distribute an album from Travis Barker of punk band Blink-182 and the late DJ AM. More than 27,000 people tweeted about the CD to download it for free, including Internet gossip Perez Hilton and actor Ashton Kutcher.
Since that promotion, the company has organized 150 additional marketing campaigns for musicians, film companies and businesses. For example, Irvine makeup company Too Faced Cosmetics promoted its holiday line by giving away samples in exchange for tweets.
The company's software, called Promo Jam, creates a promotional website and provides tracking information so a customer can see who is tweeting and how successful the campaign is.
Dudley Blossom, director of the marketing and management department at New York fashion business school LIM College, said Twitter campaigns like these can be successful because people are more likely to respond to user-generated content than traditional marketing.
"It makes the brand concept very real and personal," Blossom said. "You're reading about it from your friends. This makes Twitter a very powerful tool."
Building businesses
Culture Jam also has the advantage of Twitter's already established audience. The four-year-old San Francisco-based Twitter has more than 160 million users posting 90 million tweets each day. No surprise, then, that Culture Jam is not the only L.A.-area company looking for a way to tap into this community.
West Hollywood online advertising broker Ad.ly connects tweeting celebrities with products. The company pays the "influencers" – celebrities with a big Twitter following such as Kim Kardashian and "Real Housewives of New York" star Bethenny Frankel – to tweet as part of its marketing campaigns.
Sean Rad, Ad.ly founder and president, said user-generated content is what makes Twitter a potential moneymaker for businesses.
"Twitter has made it very easy for influencers to produce content and distribute that content to an audience very quickly," he said. "Influencers are creating a lot of valuable content, and we feel that there needs to be a revenue opportunity for these influencers."
Pasadena startup PostUp, a spinout of Bill Gross' Idealab that was formerly called TweetUp, lets Twitter users pay for their posts to be displayed prominently in searches.
Industry experts don't expect the Twitter fad to fade anytime soon – the company announced a redesign last week that many say makes it more user friendly. But still, there are questions about the viability of any company that depends on Twitter.
"It's growing for now, but the question is whether Twitter can last," said social media marketing consultant Tamar Weinberg. "What happens if Twitter shuts down?"
Ad.ly created a partnership with MySpace in June and just announced a deal with Facebook. Culture Jam is also developing deals with both social networks. Matt MacNaughton, the company's chief executive, said it could adapt to whichever social media sites are most popular.
"We want to take this concept and broaden it to the whole social media industry. It's a big growing marketplace," he said.
Promo product
Culture Jam, which rents a small loft office in the Helms Bakery Building, recently launched its PromoJam software for anyone to use. Previously, the firm designed and ran its promotions. But now, any business can subscribe to the software and run its own campaigns. A small coffee shop, for example, could use one of PromoJam's predesigned templates to ask its customers to Tweet for a free pastry.
Prices range from $30 a month for a basic promotion to $100 a month for advanced customization options. Culture Jam also will run an entire campaign for a premium price. With this expansion, the five-employee company expects to reach $1 million in revenue by the end of the year.
The software gives small businesses, such as boutiques or coffee shops that have smaller Twitter followings, the same opportunity to create Twitter promotions as Culture Jam's more prominent customers.
"Everyone needs to interact on social media these days because all the customers are there," Amanda MacNaughton said.
For reprint and licensing requests for this article, CLICK HERE.