Rival Reborn
Recycler site sets sights on Craigslist
Monday, September 13, 2010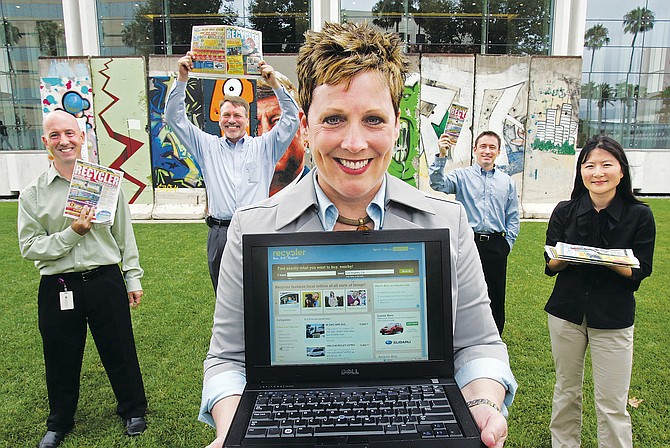 If you wanted to sell your used car in Los Angeles, the Recycler was once your publication of choice. You could get a free, basic classified ad touting its low mileage and low price.
Then came Craig and his list. The Recycler responded with an L.A.-oriented online listing of classified ads. The Recycler's print edition held on, but its website couldn't compete once San Francisco's Craigslist became the leading force in Internet want ads.
Now Target Media Partners, the L.A.-based owner of the Recycler and 59 other classified print publications across the United States, is trying a different strategy. It stopped its individual city-based websites and last month it rolled out a single national classified website, Recycler.com.
Target Media still has 60 city-based classified newspapers. And it thinks they're a strength because an advertiser can get a basic listing in both the local newspaper and on the national website for free.
The goal is to challenge Craigslist, and Target Media believes Recycler.com can tap into customer dissatisfaction with the online classified market leader.
"When we talked to users and were surveying them, we found that there was increasing frustration with Craigslist," said Pamela Johnston, chief operating officer of Recycler.com. "Buyers complained that you get so much spam and sellers complained that after a few days their listing sunk deeper and deeper. We've tried to make it better for the advertisers and the buyers."
A spokeswoman for Craigslist declined to comment.
Recycler.com works much like Craigslist: People can post a classified ad or look at them for free.
But an L.A. resident selling a sofa or a saxophone on Recycler.com would also be given the option of placing a free ad in the print edition for Los Angeles and the San Fernando Valley. Recycler also offers print customers a free web ad. That way, Johnston said, advertisers can reach potential buyers in both mediums.
"If you want to reach everybody, you should be in print and online," she said.
The print version of Recycler is free to consumers and can be found in coffee shops, gas stations and grocery stores. Some Target Media publications cost $1. Many of them have a name different from Recycler.
Although Recycler's basic web and print classified ads are free to advertisers, it charges for "enhanced" web classifieds. Those give users the option of adding more than one photo, or having their listing appear higher in searches or for a longer time. The enhanced ads cost between $7 and $29.
For reprint and licensing requests for this article, CLICK HERE.
Prev Next