Setting the Table
West Hollywood's Urbanspoon pushes local eateries to make the switch to its online reservation service.
Monday, September 6, 2010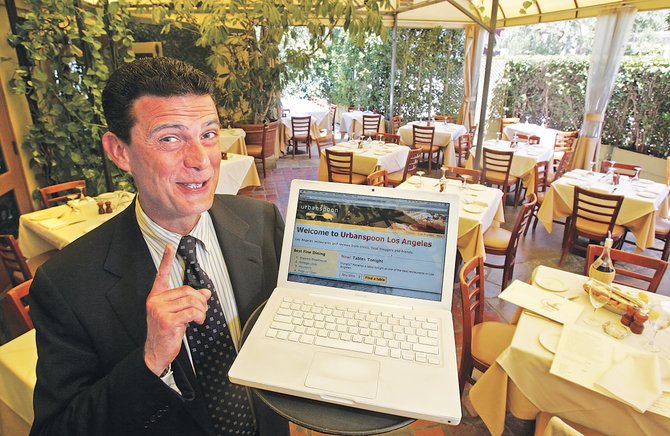 Executives at Urbanspoon want L.A.'s trendy high-priced restaurants to sign up for the company's service so that diners can go to its website or mobile applications to book a table.
Trouble is their big competitor, OpenTable, is already on the menu at most of the city's top restaurants. So the task is about as difficult as getting a last-minute reservation at Spago.
Urbanspoon salespeople have been meeting with L.A.'s top chefs and restaurateurs to get them on their reservation service called Rezbook, which the company launched in June. The effort will soon expand to New York and other major markets.
But Urbanspoon, owned by West Hollywood's CityGrid Media, a division of IAC/InterActiveCorp., is cooking up Rezbook from scratch. OpenTable Inc., a San Francisco company, already serves more than 700 establishments in Los Angeles County and more than 14,000 worldwide with its Restaurant Reservation Book or companion service.
"At this point, Urbanspoon has to find a catalyst for restaurants to change and for consumers to change their behavior," said Clayton Moran, an analyst at New York-based Benchmark Co. LLC who follows OpenTable and IAC/InterActiveCorp. "That's a tough challenge."
Gretchen Fowler, director of sales at Urbanspoon, said the company's ready for it. The strategy is to target 20-something foodies who want to book at the latest trendy dining spots, and she sees OpenTable's demographic as less inclined to experiment.
"We excel with restaurants that are more of a culinary adventure; individual restaurants, not chains," Fowler said.
OpenTable declined to comment specifically on the competition from Rezbook.
"Our restaurant partners tell us that we deliver great value in helping them fill seats, manage their reservations and be more profitable," the company said in a statement.
Mark Gold, chef-owner at fine-dining eatery Eva Restaurant on Beverly Boulevard near the Fairfax District, signed up for Rezbook about a month ago, and he doesn't plan to renew his contract with OpenTable when it expires at the end of September. The deciding factor: Gold said Rezbook's system is easier for his staff to use.
Also, Gold said employees can use Rezbook's dining table map to rearrange the restaurant's floor plan if tables need to be combined to accommodate larger parties more easily than they can use the comparable feature on OpenTable.
"That benefits us a lot because we are constantly moving tables," Gold said. "OpenTable is a little bit more complicated." Sometimes his staff has even had to call OpenTable's IT department for help.
Restaurants can use the system to record their customers' dining preferences and special occasion celebrations for marketing purposes.
Rezbook charges restaurants $99 a month for the service, plus $1 per person for each reservation. However, restaurants don't have to pay if diners use the service via the eateries' websites or Facebook page. Restaurants also must have an iPad, which costs $499, to access the system.
OpenTable's monthly fee is $199, plus $1 per person for each reservation, or 25 cents each for reservations made through the restaurant's website or Facebook page. OpenTable charges restaurants an installation fee of about $600 for a touch-screen monitor at the hostess stand that runs its Restaurant Reservation Book system.
"The pricing structure is one of our biggest advantages," said Urbanspoon's Fowler.
Restaurant wars
Urbanspoon doesn't disclose the number of its employees. Its official headquarters is in Seattle along with its IT staff, but most of the company's operations are at CityGrid Media's West Hollywood offices on the Sunset Strip.
The company began as a localized restaurant listing site that also posted reviews from food critics, bloggers and diners. It provides information for restaurants in more than 70 U.S. cities, in addition to regions of Canada, the United Kingdom and Australia.
Stefano Carella, general manager at Italian eatery Ago on Melrose Avenue in West Hollywood, started using Rez, Urbanspoon's basic reservation service that doesn't include floor plans and management, about three months ago. He has received about 380 reservations through the service. The restaurant, which caters to entertainment industry execs – it's part-owned by actor Robert De Niro – is still using OpenTable in addition to Rez.
Carella hasn't decided whether the restaurant will drop OpenTable and upgrade Rez to Rezbook, but he's interested.
"It's very easy to operate and understand. It's very simple," he said.
But one concern for Carella is that so many people already use OpenTable that the restaurant could lose diners if it switched systems.
"OpenTable has been around for so long, they've captured a lot of clientele," Carella said.
Eva's Gold is similarly concerned. He said about 65 percent of the restaurant's reservations were booked through OpenTable.
"I was like, 'Wow, am I going to lose 65 percent of diners?' " Gold said. "But out of those people, 80 out of 100 were just looking to dine at Eva regardless of how they got a reservation."
So he isn't worried about losing diners. And there's an additional perk to using Rezbook for him: the iPad.
"It's not only to use Rezbook, I go around the tables and show pictures of my kids and stuff like that," he said.
For reprint and licensing requests for this article, CLICK HERE.