Grounds for Growth
Vernon's Gavina & Sons brews up 'super-premium' lines to target consumers who drink at home.
Monday, September 6, 2010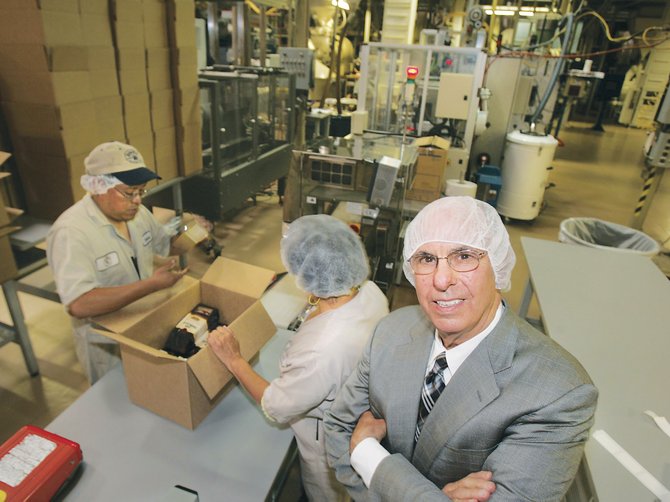 About two years ago, Pedro Gavina and his siblings noticed a trend.
In order to save money as the recession picked up, premium gourmet coffee drinkers were brewing more at home. So the Gavina family, which owns a coffee roaster, decided to seize on what it saw as an opportunity.
In July, their 43-year-old Vernon company, F. Gavina & Sons Inc., began offering a new brew: Don Francisco's Coffee Family Reserve, its first foray into "super-premium" supermarket coffees.
"We wanted our customers to have the same experience they would have in a coffeehouse," said Gavina, 65, the company's president. "We looked at the research and thought 'Why not go the extra steps?'"
The move puts the regional supplier in direct competition with such heavyweights as Starbucks Coffee Co. and Peet's Coffee & Tea, which have well-established supermarket brands and sell 12-ounce coffee packages for as much as $10 or more.
In order to create some space on those crowded shelves, the family spent about $3 million on research and development, traveling to coffee plantations worldwide in search of high-quality beans. The company has now secured supplies in Columbia, Panama, Brazil and other coffee-growing countries.
The result is a new lineup of brews roasted in Gavina & Sons' L.A. plant, including Columbia Supremo, French Roast, Kona Blend, Espresso, Sumatra and Decaf Columbian.
The venture comes at a difficult time for the coffee industry. Bean prices recently hit nearly 13-year highs – squeezing roasters – even as global consumption dropped 1.5 percent, according to the International Coffee Organization, the world's main intergovernmental industry trade group.
The domestic market, where consumers spend about $48 billion annually feeding their caffeine habits, is doing somewhat better – especially for makers of super-premium roasters. A recent survey by the New York-based National Coffee Association of U.S.A. found that 56 percent of Americans drink java every day, with nearly half of it "gourmet" or "specialty" brews. And 86 percent said they prepare their coffee at home, up from just 82 percent the previous year.
"This likely reflects how consumers have managed to balance their love of coffee with the desire to control costs in response to the recession," the organization concluded in a statement.
Wide distribution
Currently, Gavina & Sons, which had revenue of about $114 million in 2009, does 43 percent of its business in supermarket chains, including Ralphs, Vons and Slater Bros. An additional 44 percent of the company's coffee is sold under private labels, mostly to 3,300 McDonald's restaurants from Texas to California. Thirteen percent of its income is derived from food-service sales to restaurants, cafes and offices.
The company already makes specialty coffees, such as decaf flavored with amaretto and chocolate, but those coffees do not command the pricing of super-premium, which has a far greater profit margin. Gavina & Sons, on average, is paying about 25 percent more for the beans, but can sell them at a markup nearly 50 percent higher. Twelve-ounce packages retail for $7.99, a discount from Starbucks.
The other major reason for expanding into the super-premium market, Gavina said, is that there's less competition from companies such as Kraft Foods, the maker of the Maxwell House brand.
"The bigger companies just don't produce this level of coffee," he said.
However, with markets stocking up on super-premium brands – there also are smaller roasters in the market – Gavina & Sons has its work cut out for it. Seattle-based Starbucks recently announced it was redoubling its efforts to sell more at grocery stores.
"Our competitors are trying every angle to reach our customers," Starbucks chief executive Howard Schultz wrote in an internal memo quoted by the Wall Street Journal. "We will think strategically and act boldly to maintain our leadership position."
Gavina said it's too early to tell how well the new coffee's selling. Currently, it comprises about 10 percent of the company's output, though he'd like to see that triple or quadruple in the next five years.
At least one industry analyst thinks that will be a challenge.
"First they've got to convince markets that there's a need for the new product. Then they've got to convince consumers that their coffee is worth tasting," said Norris Bernstein, a consultant based in Long Beach who advises food manufacturers on how to sell products.
His advice: creative "guerilla" marketing tactics aimed at carving out a niche.
"They've got to do something clever, something unique, something that makes them stand out," Bernstein said. "If I was them, I'd want to be in a category all by myself. They have to find a niche that they can own."
'Ambitious plans'
For now, the company's marketing is fairly straight ahead.
Gavina &Sons is packaging its new line in the soft, 12-ounce bags in which most super-premium coffee is sold. The packages bear family portraits evoking the colorful history of the company, which was founded in 1967 by family patriarch Don Francisco Gavina after emigrating from Cuba with his four children: Pedro and his three siblings, Francisco, Jose and Leonor. The elder Gavina died in 1996 at 93, and the four children own and operate the company.
"We're just looking to the future," Pedro Gavina said of the company's plans. "We don't want to disappear."
Kenneth Davids, editor of San Francisco-based Coffee Review, an online publication that grades coffees on a 1-100 scale, thinks he may have a better idea.
In a recent article, Davids awarded several of the Don Francisco's Coffee Family Reserve brands with ratings in the 80s, which is in line with other super-premiums sold in supermarkets. But more noteworthy is the color of the brew.
"What's unusual in terms of supermarkets," he said, "is the lighter roast."
Though most supermarket coffees are medium or light roasted, Davids said, they are generally of poorer quality, while both Peets and Starbucks feature darker brews. As a result, supermarket shoppers have generally been limited to two choices: poor-quality medium roasts or high-quality darks.
"What was missing before was a high-quality medium brew," he said. "Gavina & Sons may have filled that niche. I think there's some real potential."
F. Gavina & Sons Inc.
HEADQUARTERS: Vernon
CHIEF EXECUTIVE: Pedro Gavina
FOUNDED: 1967
CORE BUSINESS: Coffee roaster and distributor
EMPLOYEES: 250
GOAL: Quadruple sales of super-premium coffee in the next five years.
THE NUMBERS: $114 million in revenue last year; growing by 5 percent to 6 percent a year.
For reprint and licensing requests for this article, CLICK HERE.