Grounds for Growth
Vernon's Gavina & Sons brews up 'super-premium' lines to target consumers who drink at home.
Monday, September 6, 2010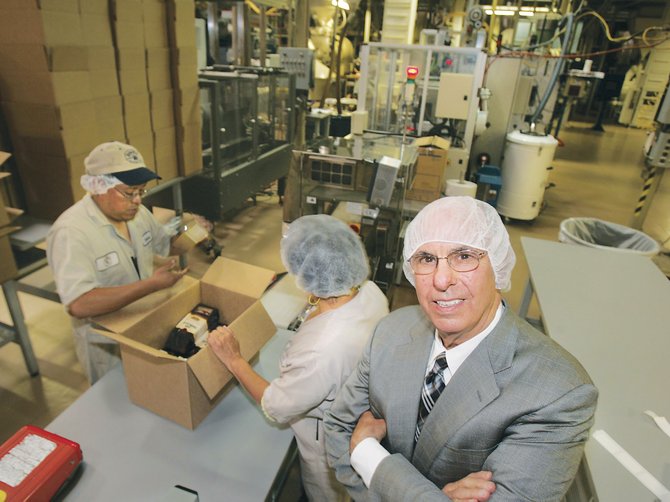 About two years ago, Pedro Gavina and his siblings noticed a trend.
In order to save money as the recession picked up, premium gourmet coffee drinkers were brewing more at home. So the Gavina family, which owns a coffee roaster, decided to seize on what it saw as an opportunity.
In July, their 43-year-old Vernon company, F. Gavina & Sons Inc., began offering a new brew: Don Francisco's Coffee Family Reserve, its first foray into "super-premium" supermarket coffees.
"We wanted our customers to have the same experience they would have in a coffeehouse," said Gavina, 65, the company's president. "We looked at the research and thought 'Why not go the extra steps?'"
The move puts the regional supplier in direct competition with such heavyweights as Starbucks Coffee Co. and Peet's Coffee & Tea, which have well-established supermarket brands and sell 12-ounce coffee packages for as much as $10 or more.
In order to create some space on those crowded shelves, the family spent about $3 million on research and development, traveling to coffee plantations worldwide in search of high-quality beans. The company has now secured supplies in Columbia, Panama, Brazil and other coffee-growing countries.
The result is a new lineup of brews roasted in Gavina & Sons' L.A. plant, including Columbia Supremo, French Roast, Kona Blend, Espresso, Sumatra and Decaf Columbian.
The venture comes at a difficult time for the coffee industry. Bean prices recently hit nearly 13-year highs – squeezing roasters – even as global consumption dropped 1.5 percent, according to the International Coffee Organization, the world's main intergovernmental industry trade group.
The domestic market, where consumers spend about $48 billion annually feeding their caffeine habits, is doing somewhat better – especially for makers of super-premium roasters. A recent survey by the New York-based National Coffee Association of U.S.A. found that 56 percent of Americans drink java every day, with nearly half of it "gourmet" or "specialty" brews. And 86 percent said they prepare their coffee at home, up from just 82 percent the previous year.
"This likely reflects how consumers have managed to balance their love of coffee with the desire to control costs in response to the recession," the organization concluded in a statement.
Wide distribution
Currently, Gavina & Sons, which had revenue of about $114 million in 2009, does 43 percent of its business in supermarket chains, including Ralphs, Vons and Slater Bros. An additional 44 percent of the company's coffee is sold under private labels, mostly to 3,300 McDonald's restaurants from Texas to California. Thirteen percent of its income is derived from food-service sales to restaurants, cafes and offices.
Prev Next
For reprint and licensing requests for this article, CLICK HERE.