Don't Stop The Press
Hollywood Reporter starts a slick weekly as it moves daily news online.
Monday, October 18, 2010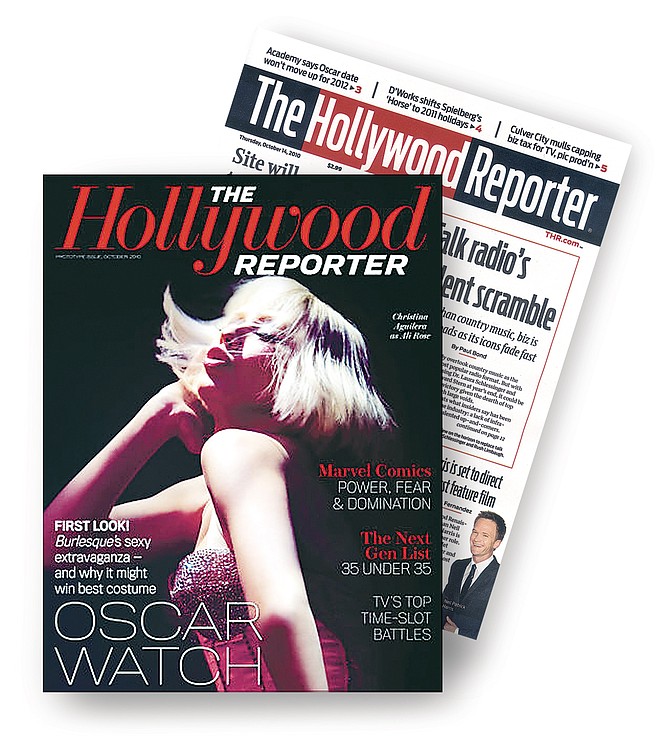 Show business types may be curious about the kinds of industry scoops they'll get from the soon-to-be revamped Hollywood Reporter. But those in publishing and journalism circles are more interested in something else: the reception of the Reporter's slick new weekly magazine.
As most other magazines are cutting back, the Reporter is launching a glossy large-format weekly magazine geared to the fashion-celebrity-lifestyle market. Think W, Vanity Fair or Vogue.
The dramatic change to the paper product – it will reserve pages for feature stories and photo spreads – follows years of debilitating layoffs, plummeting ad sales and competition from a new generation of hard-hitting entertainment blogs.
But turning a trade magazine into a fashion-lifestyle-celebrity publication is a particular challenge.
"The question is if they can make the jump from subscription trade to newsstand gem," said Dan Weikel, managing partner at Insignia Brand Partners, an advertising and PR firm. "Getting space on the stands isn't easy."
The magazine is part of a multipronged approach. The 80-year-old Reporter soon will stop sending out a daily newspaper; subscribers will get an e-mail blast with breaking news every morning. Beginning Nov. 3 subscribers will also get the new weekly magazine.
An annual subscription will cost $250, down from the current $300. The magazine's newsstand price will be $6.
The new magazine will move away from its former diet of studio ads and turn to luxury consumer ads for products such as vehicles, liquor and designer clothing.
But with its history as a trade magazine, it could be difficult for the Reporter to attract a new kind of advertiser, said Samir Husni, director of University of Mississippi's Magazine Innovation Center. He said that with the onslaught of celebrity news in print and TV, the magazine will have to prove itself to both readers and ad buyers.
"Now that we're bombarded by Hollywood, what are they offering?" he said. "They have to ensure advertisers that there are fish in the pond where they're going to go fishing."
The Reporter plans to expand its news coverage in order to appeal to wealthy influencers instead of only show business executives and insiders. This means adding articles on food, fashion, society and real estate. To do this, the Reporter has been aggressively hiring staff.
Sharon Waxman, editor in chief of entertainment website TheWrap.com, said a number of her staff has been tapped for jobs, but they rejected the overtures.
The Reporter recently announced it has hired Todd McCarthy, formerly the chief film critic at Variety, to head its film reviews. The publication has also brought in Bill Higgins, who covered the social scene beat at Variety, as a staff reporter; Jonathan Handel, an entertainment attorney with TroyGould law firm, to contribute labor coverage; Carol McColgin, from Us Weekly, to oversee fashion and style content; and Daniel Miller, former real estate reporter at the Business Journal, to cover real estate and the talent agencies.
Combined editorial staff is expected to grow by 50 percent to 70 reporters and editors. This will bring newsroom numbers closer to the publication's peak, before several rounds of layoffs.
Trade trouble
The Reporter and its rival, Variety, have seen shrinking page counts, shrinking ad revenues and shrinking staffs as movie advertising dwindled and online competition increased, notably from Waxman's TheWrap.com and Nikki Finke's Deadline Hollywood.
"The environment of covering Hollywood has changed in the last few years," said Martin Kaplan, director of USC's Norman Lear Center, which studies entertainment and the media. "That change has been driven, to some degree, by Nikki Finke and Sharon Waxman with their inside stories and exclusive interviews."
The Audit Bureau of Circulation's latest available figures, September 2008, for the Reporter showed a 45 percent drop in circulation to 18,600. Richard Beckman, chief executive of the Reporter's corporate parent, e5 Global Media, was quoted in the New York Times claiming a circulation of 47,000, including international papers and free copies mailed to celebrities. The new magazine will ramp up to 60,000 copies soon, with a later goal to quadruple circulation in three years.
To revive the paper, e5 hired Janice Min, formerly editor of Us Weekly, to be executive editor of the Reporter. Former editor Elizabeth Guider, a Variety veteran, left the Reporter last week.
Min, who helped double the circulation of Us Weekly during her six-year tenure and earned a reported annual salary of $2 million, is already credited with punching up the content at the Reporter. The publication's website, thr.com, led entertainment news websites in August with 2.13 million visitors, up 12 percent from July, according to marketing research company ComScore.
"The headlines are snappier and the content is more fun," Kaplan said. "I get the e-mail saying that the latest edition is online and I am eager to see what's there."
Husni of the Magazine Innovation Center sees the Reporter's two-pronged strategy – online news and print features – as exemplary of an industry trend.
"Breaking news has become the domain of the Internet. The future of newspapers is going to be weekly magazines with more in-depth stories and analysis," he said. "A magazine can be the bridge between what happened last week and what's going to happen next week. It's something the Internet can't do."
But Kaplan said it's unlikely he'd buy the magazine unless it provided something, such as graphics and photo spreads, that he couldn't find online.
And some still question whether moving the print publication away from industry news will bring in more money.
Waxman, as a blogger, noted that the Reporter's move to celebrity coverage leaves more room for her to break news. She sees the Reporter's transformation as a split personality.
"The Hollywood Reporter is going through an identity crisis," Waxman said. "I don't think it knows, editorially, what it wants to be.
"The challenge is not whether they can produce content that will be interesting to people. The challenge is if they can produce a product that enough people want to buy to support the cost of a glossy, weekly magazine."
For reprint and licensing requests for this article, CLICK HERE.