Floor at Center Of Rent Dispute
Landlords, tenants feud over rate hikes.
Monday, October 11, 2010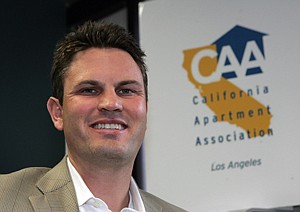 Now that the 31-year-old ordinance on rent-controlled apartments is being updated, a battle has broken out between landlords and tenant groups over how the city of Los Angeles should legislate rent increases.
At the forefront of the debate are changes to the Rent Stabilization Ordinance's annual rent adjustment. Tenant groups say a proposal that could lower the amount of rent increases doesn't go far enough to help rent-burdened tenants. But landlords say that lowering rent increases will only make it harder for them to get enough money to cover the cost of maintaining apartments.
"It would make it difficult for owners," said Ryan Minniear, executive director of the California Apartment Association of Los Angeles.
Rent control is an important issue because so many apartments – 630,000, which were built before 1978 – are covered by the ordinance. Currently, landlords at rent-controlled apartments can raise the rent each year between 3 percent and 8 percent, tied to the Consumer Price Index.
That means landlords are still allowed a 3 percent hike even if the CPI falls below 3 percent, and that's become a point of contention. When the ordinance was passed in 1979, inflation as measured by the CPI was high; but the CPI has been below 3 percent for six of the last nine years.
The proposed changes would lower the floor of rent increases to 2 percent and increase the ceiling to 9 percent if the CPI rises to that level or above.
Anna Ortega, director of rent stabilization for L.A.'s Housing Department, said widening the range of the annual rent adjustment is meant to benefit both landlords and tenants.
But landlords aren't happy with it. Because landlords lease most rent-controlled apartments at below market rates, they argue that they already have trouble keeping up with maintenance needs.
But tenant groups are dissatisfied with the notion of a lower floor as well. They want it eliminated.
"When the CPI is below the floor, tenants are still being hit with rent increases." said Larry Gross, executive director of the Coalition for Economic Survival, a non-profit that advocates for low-income tenants. "We're looking at a situation where tenants who are severely rent burdened would be hit with another rent increase."
The notion of eliminating the floor upsets apartment owners. They say that would leave them struggling to make basic repairs to residences.
"There's a cost to maintain a building," said David Eitches, a broker with Charles Dunn who also owns buildings in the Koreatown and Mid-Wilshire areas. "Those costs are increasing. Rents shouldn't be going down when landlords' costs are going up."
For reprint and licensing requests for this article, CLICK HERE.
Prev Next