Fashion Chain Slips Into Sears
Forever 21 sees Costa Mesa space as good fit.
Monday, October 11, 2010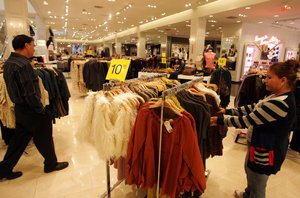 Forever 21 started life a quarter-century ago in a little 900-square-foot store in Highland Park. But since then, the downtown L.A. fast-fashion retailer has moved into some huge spaces, even swallowing up leases of bankrupt multilevel department stores 200 times the size of its first shop.
Now it's doing something else no other chain of its type has done: It's taking a big chunk of space in an existing Sears store.
Forever 21 is scheduled to open a store in 43,000 square feet subleased from the iconic chain at the posh South Coast Plaza mall in the spring.
"If you take every successful apparel company in America, none of them have gone out and taken these gigantic multilevel stores," said Howard Davidowitz, chairman of New York retail consulting and investment firm Davidowitz & Associates Inc. "They are doing things that other people haven't done, and I think the Sears deal is consistent with that."
The Sears deal follows Forever 21's expansion into cavernous spaces once occupied by stores such as Mervyn's; Virgin Megastore; and Gottschalks, a now-closed middle-tier department store chain with locations in smaller Western U.S. cities.
Why would Forever 21 and Sears, based in Hoffman Estates, Ill., make this unlikely alliance?
The agreement is expected to give the Sears store a more fashionable image and a boost in traffic. Forever 21 gets to take over prime real estate in an upscale mall that lacks a Forever 21 store.
Marshal Cohen, a chief analyst who covers the apparel industry at the Port Washington, N.Y., market research firm NPD Group Inc., said Forever 21 will be able to draw shoppers who otherwise might not be interested in its low-priced inventory that's mostly for teens and twentysomethings. While Sears, better known for its appliances, might take a step toward changing its hardware store image.
"It helps Sears get past the lawnmower syndrome," Cohen said.
Larry Meyer, executive vice president at Forever 21, said his company's stores generate traffic for nearby retailers.
"When we go into malls and places, we do drive traffic," Meyer said. "Whether we are in a mall or we are proximate to other retailers."
Forever 21 and Sears both downplayed the deal. Executives from the two companies declined to provide terms of the sublease and were quick to point out that the new Forever 21 store at South Coast Plaza will not operate as a traditional store within a store, even though it has been widely described as such among retail industry observers.
Prev Next
For reprint and licensing requests for this article, CLICK HERE.