Nancy Sidhu: Doing the Math
Nancy D. Sidhu expects her tenure to go by the numbers as new chief economist at L.A. County Economic Development Corp.
Monday, October 11, 2010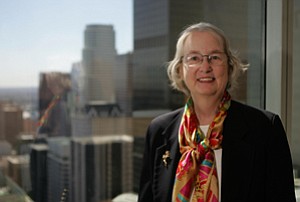 As the new chief economist for the Los Angeles County Economic Development Corp., Nancy D. Sidhu may be a little more reserved than predecessor Jack Kyser, but she said she's ready for the challenge of trying to explain L.A.'s economy to media and business leaders from around the world. She began her career as a Ph.D. teaching at Northeastern Illinois University, but jumped ship – despite tenure – to a job at a steel company. Sidhu came to Los Angeles from the Midwest when her husband, Victor, got a job with First Interstate Bank in downtown Los Angeles. She first worked as an economist at Toyota Motor Sales U.S.A., then signed on at Security Pacific Bank. Later, Security Pacific merged with Bank of America, and her job was eventually phased out. Sidhu joined the LAEDC as a consultant in 2000. A year later, Sidhu was in New York for a meeting of the National Association of Business Economics at the Marriott Hotel next to the World Trade Center when the two hijacked planes hit the twin towers. Sidhu and hundreds of other economists were evacuated before the South Tower collapsed onto their hotel. To this day, Sidhu is reluctant to talk about her experience, saying the pain is too deep. She sat down with the Business Journal at her downtown office to discuss her career as an economist, her role filling Kyser's shoes and her penchant for traveling to places most tourists wouldn't pick as destinations.
Question: How did your childhood inform your career?
Answer: My family was full of business people. My father was a stockbroker and had interests in oil. My mother's family also worked in the corporate world. So, from a very early age, I was interested in business and industry. I was the first of our family – I have three sisters – to make a career outside the home.
Why did you decide to become an economist?
I grew up believing that I would be teaching at the university level: college professor of finance or something like that. But when I went to Smith College, I signed up for economics and found that I just loved it. Economists look at the world the way it really works – and that's what I love about it.
You're now moving into Jack Kyser's position, as the voice of the Los Angeles economy. How does that feel?
I had worked with the media before, but nothing like what I'm going through now. The region is so complex and interesting: It's difficult to explain Los Angeles to different parts of the country or the world. I think it helps that I came to Los Angeles from somewhere else, so I have something to compare it to.
For reprint and licensing requests for this article, CLICK HERE.
Prev Next
Stories You May Also Be Interested In