Advanced Placement
Agency cues lyricists to name-drop brands.
Monday, November 8, 2010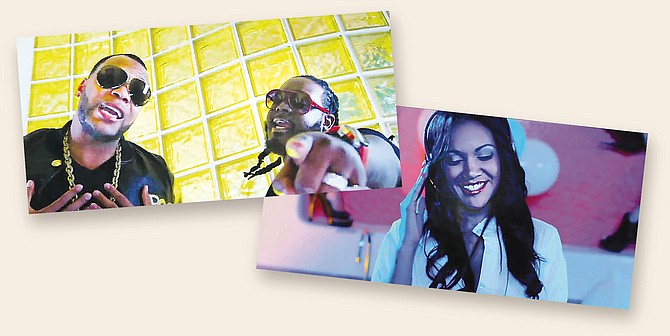 Consumers long ago grew accustomed to seeing name-brand products pop up in films and videos. But now, that hit song on the radio may have a paid advertisement embedded in it.
Kluger Agency, based in Beverly Hills and Miami, arranges to get brand names mentioned in pop song lyrics – sometimes even in the title. Adam Kluger, the agency's founder, believes such commercial integration will become the future business model for the music industry.
Indeed, industry analysts said that more than ever, brands want to be part of the content rather than separate as in traditional advertising. The trend started in films and moved to reality TV shows and music videos. Now product integration is showing up in new and different ways.
"Product integration is the wave of the future, 100 percent," said Henry Eschelman, a principal who specializes in brand placements at Platform Media Group in West Hollywood. "Brands will do it anywhere and everywhere."
Now it's starting to show up in music. Kluger said he negotiates four to six lyric placements every year, he provided only one example of his strategy because "the campaigns are meant to look natural."
That sole example is "Zoosk Girl," a song by rappers T-Pain and Flo Rida. The online dating site Zoosk.com is in the title, chorus and its name is shown in the video of the song.
Kluger calls this version of product placement "brand-dropping." The process begins when the agency prepares a proposal and gets preliminary approval from an advertiser. Kluger then approaches an artist or artists in search of a song concept that matches the brand message. The songwriter simply replaces a generic word with a brand name, a technique that can range from a single mention up to "Zoosk Girl," which repeats the name 20 times.
Once the lyrics are finalized, Kluger personally goes into the studio during recording and mixing sessions to make sure the brand name is audible. It usually takes six months or more from first proposal to final recording.
While former Wired magazine music critic Eliot Van Buskirk has accused him of blurring the line between art and advertising, Kluger believes his business model can save the music industry, which has been crippled by pirated CDs and illegal downloads of music.
"If (fans) don't like this, then stop downloading illegally," Kluger said. "Fans have put the music industry in this position, and I'm here to correct it."
So even if a song is pirated, Kluger noted that it still carries the commercial message and thus can be profitable for both advertiser and artist.
For now, most of Kluger Agency's work is in product placements in music videos. The agency arranged the video for the Lady Gaga song "Telephone" to display cellular devices from Virgin Mobile. Other credits include the video for "Smile" by Uncle Kracker, which features the drink Faygo Pop, and Keri Hilson's video "Turnin' Me On," which displays Don Julio tequila.
Between the brand-dropping and video product placement, Kluger estimated that he brokers about 70 deals every year, ranging in value from $50,000 to more than $1 million.
"These campaigns don't end – they live forever on YouTube," he explained. "They reach a generation that lives on YouTube, and music videos are among the most popular views on the site."
No complaints
As for results, Kluger said PlentyofFish.com, another dating site, experienced a 15 percent increase in traffic the week after it appeared in another video he arranged – "Available" – by Flo Rida and Akon.
Eric "E-Class" Prince, chief executive of Poe Boy Music who represents Flo Rida and other rappers, said he has never heard a complaint from fans about brand-dropping or music video placements.
"All fans care about is the music," he said. "They don't care how you paid for your music video. And if you don't have a hit song, it don't matter what drink you're holding in your hand."
From an advertiser's perspective, the main glitch in Kluger's system is that artists must approve every inclusion.
"Any brand can buy a spot on television, but you can't do that with music," Kluger said. "I have a room in Miami filled with products on the waiting list to appear in videos. Some brands are not good enough – the artists don't like them – so we shelve them and wait for an artist who does."
Keith Holzman, a record label consultant in West Los Angeles, said brand-dropping is positive if it can pump more money into the ailing music industry. He believes consumers are used to product placements in film and TV, so the extension to music lyrics won't bother most fans.
One potential danger is that any scandal by either the musician or the brand could reflect poorly on the other – and will be permanently embedded in the song's lyrics.
"If a product proves faulty or deceptive, that could cause a backlash against the artist," he said. "For example, if a song was associated with Toyota, which recently was not forthcoming about serious defects, it could have negative effects on the band."
Kluger said his agency is the only one that sets up deals for singers to brand-drop in their songs. Several product placement specialists in Los Angeles contacted by the Business Journal said they had not heard of any other agency consistently making such arrangements. But there are unusual cases.
"I haven't heard of an agency that gets (product) mentions in lyrics, but I know it's possible," said Platform's Eschelman. "I had an artist approach me to sell the right to have a product in a song."
So far, Eschelman hasn't matched the artist with an advertiser but still hopes to put together a deal.
'Summer Girls' inspiration
Kluger first got the idea for his company as a high school student in 1999, when the band LFO released the song "Summer Girls." The chorus repeated the line "I like girls that wear Abercrombie & Fitch," and sales at the apparel chain increased.
Later, Kluger moved to Hollywood to pursue a career in the music industry. While waiting for his break, he landed a job at a local advertising agency. The combination of advertising skills and his interest in the music business led him to launch his company, which he calls a nontraditional advertising agency, in 2007. The company has 10 employees in its Beverly Hills and Miami offices.
He said his success so far has come in pop, hip-hop and rap music. He believes other genres, such as country and Latin, are ripe for the growth of brand-dropping.
"Our work with lyric placement is a process that has already begun and will continue to be a powerful force in music moving forward," he said.
Meanwhile, he will continue to look for music acts on the cusp of fame, the perfect time in their career to pursue that first advertising deal.
"It works best for artists that are peaking," he said. "But I've never had an artist that didn't want to do it again."
RELATED STORY:
• Jeep Rolls Out Model Tied to Activision Game.
For reprint and licensing requests for this article, CLICK HERE.