L.A. Food Trucks Set to Serve Up Battle for Rights
Organization has attorneys on retainer as councilman cracks down.
Monday, June 21, 2010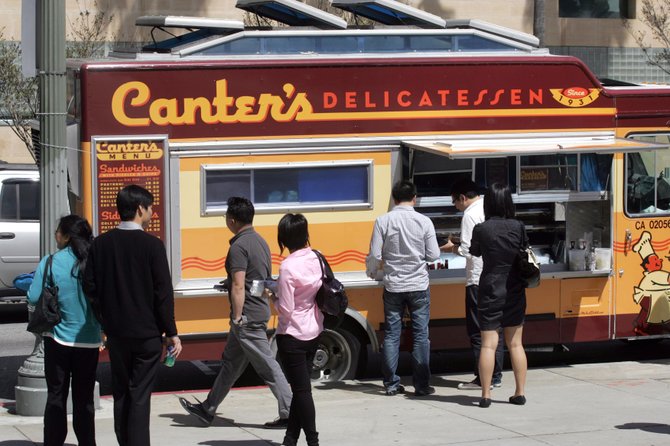 Six months ago, just as the gourmet food truck trend in Los Angeles was getting rolling, Matt Geller got a call from a friend who had just bought a food truck.
Local restaurant owners and police officers were citing any number of regulations to get the trucks to move, Geller's friend complained. Some truck owners reportedly were told wrongly that they couldn't be within 100 feet of a restaurant business. Others said they weren't allowed to park in certain zones more than half an hour. Truck owners wanted to know which regulations were legitimate, and they wanted to push back.
"He asked me to help organize," said Geller, a former restaurant owner with a law degree from UCLA.
Today, Geller is chief executive of the SoCal Mobile Food Vendors Association, which boasts more than 60 members out of an estimated 90 gourmet food trucks in Los Angeles. The organization, which has attorneys on retainer, has already tapped into the power of a Twitter-mobilized fan base to lobby against restrictions and even endorse a political candidate.
Now, the group faces its biggest test yet in a pair of City Council motions introduced by Councilman Tom LaBonge on June 11. LaBonge's district includes a Miracle Mile strip where more than a dozen food trucks line up daily. He is seeking to ban food trucks from parking in metered spots in Los Angeles and to set up special parking zones for them.
"I really base my administration on the broken windows concept," LaBonge said. "I do not want to see the Miracle Mile and other parts of the city face a vacancy rate where you have a challenge to the existence of what the neighborhood should be. Then it becomes a free-for-all in the street if we don't have this discussion."
LaBonge, whose motions will be reviewed by the City Council's transportation committee in July, wants to restrict food trucks to no more than maybe "one space per every other block," and wants to explore the possibility of enhanced fines or towing vehicles that don't comply.
Fighting back
Saying that LaBonge's proposals would hurt their business, the newly organized food trucks have been fighting back. An online petition has gathered more than 2,000 signatures. Tens of thousands of fliers are being printed out and distributed to customers. And the trucks are asking online followers to contact LaBonge and Councilman Paul Koretz, who seconded LaBonge's motion.
Prev Next
For reprint and licensing requests for this article, CLICK HERE.