Startup Uses Web to Get People to Stick to Diets
Symtrimics sets up doctors with iPads to guide weight loss.
Monday, December 6, 2010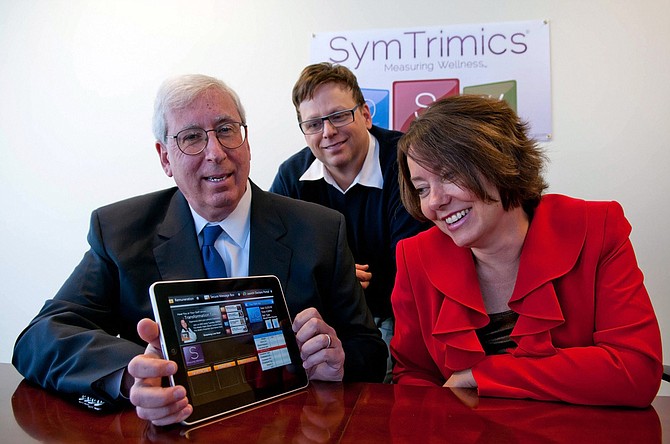 Editor's Note: This story has been changed from the original to correct the amount of initial investment a medical practice would make to affiliate with Symtrimics.
Brooklyn homemaker Jean Nidetch built Weight Watchers into an international success through the simple formula of giving replacement meals and social support to the overweight.
Now, an El Segundo startup is betting that that technology revolution can help physicians grab a piece of that business.
Symtrimics Inc. is rolling out a program that will allow doctors to establish their own weight loss programs, aided by the Internet and an iPad app that will help them monitor and educate patients.
"There's no need for doctors to send patients off to a Jenny Craig or Weight Watchers if we can provide them the tools to offer a program themselves," said Symtrimics Chief Executive Stuart Bruck. "At the same time, we provide doctors, who are hurting because of reduced reimbursement for medical services, with an additional source of income related to their practice."
Under the program, a medical practice makes an initial $15,500 investment to affiliate with Symtrimics. In return, they get a branded Web site that offers patients a variety of educational tools, including webinars on diet, exercise and behavior modification techniques. Doctors also get their own iPad preloaded with a patient-monitoring app and the services of a Symtrimics employee who comes to the office to enroll patients and manage other aspects of the program.
Patients pay $299 for a 14-day introductory program designed to reduce cravings and show quick results. They are provided meal replacement shakes and bars for most meals and snacks. The patients also prepare one regular meal on their own based on low-glycemic dietary principles, which emphasize low-sugar, high-fiber foods.
After the initial period, patients pay $349 a month for a 90-day "integration" phase that gradually has them preparing more of their own meals. The company says the cost is close to half of what a new Jenny Craig's client might expect to pay for portion-controlled meals, counseling and materials.
Symtrimics also provides to the physician a variety of Internet and in-office marketing tools, including a flat-screen monitor for the waiting room showing health programs.
Keeping patients
Symtrimics' protocol was developed by Dr. Kelly Senholz, a Denver-area internist and emergency room specialist who founded the company and now serves as the company's chief medical officer.
She said she was frustrated by the number of repeat patients she'd see in the hospital emergency room and in her rounds whose ailments could be traced to obesity, diabetes and other metabolic disorders.
"I came to realize that doctors were losing more and more influence over their patients, and a lot of that had to do with not being able to offer a wellness program that they could control and track their patients on," Senholz said. "There's a lot of flimflam out there in the wellness business, and it's time for doctors to take back wellness."
Senholz did additional research into wellness issues and eventually opened a medical spa in 2004.
"I found that I was making more money from the wellness services I was offering, and realized that this was something people were willing to pay money for," she said.
Through a mutual acquaintance, she met Bruck, who is chairman of health care investment firm London Pacific & Partners Inc., which shares its El Segundo suite of offices with Symtrimics but did not participate in the funding.
Bruck instead took a proposal to another group of high-net-worth individuals he had worked with on other startups. Neither Bruck nor Symtrimics would disclose funding information.
Senholz's company was relocated first to Beverly Hills and eventually to El Segundo, though she continues to live and work in Colorado most of the year.
After testing the program in other markets for more than a year, Symtrimics began rolling out its program to Los Angeles and Orange county doctors last month, and is scheduled to release the iPad app this month.
Chief Operating Officer Kevin Owens said the key to making Symtrimics stand out from other programs is the iPad, which since its launch in April has been embraced by the medical market. The Symtrimics program is kept on secure remote servers that users can access wirelessly.
"We really couldn't have done this without the iPad," said Owens, a former executive at computer networking company Cisco Systems who used his Silicon Valley contacts to assemble a programming team. "We had to offer something that was fast, secure, attractive and easy for doctors to use to keep track of their patient's blood work and other data."
Kansas family physician Dr. Craig Parman first learned about Symtrimics from a sales rep he had known for years. Parman, who had earlier lost 60 pounds using a low-glycemic diet, was intrigued and became a tester. He said he successfully put 50 of his patients through the program and took off an additional 20 pounds himself.
The family physician, whose practice is in a suburb of Wichita, said he already uses his own iPad for medical research.
"I haven't cracked a medical text in quite some time and I believe this wireless route is the way we all will be heading in my field," Parman said.
For reprint and licensing requests for this article, CLICK HERE.