Marrying Wedding Work With Publicity
SPECIAL REPORT: 20 in their 20s
Monday, April 26, 2010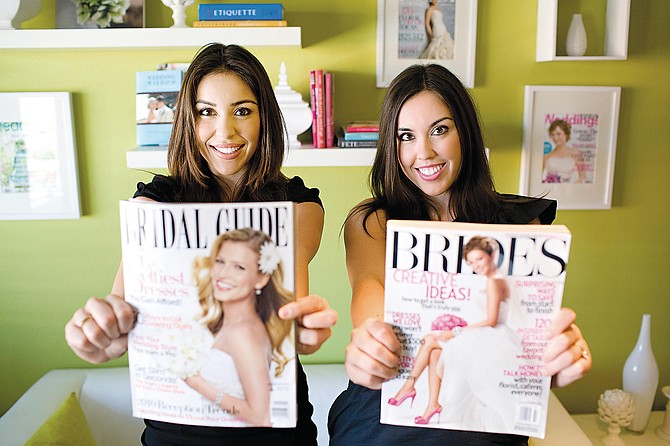 LEILA KHALIL, 29, chief executive and senior publicist, and KELLEE KHALIL, 25, director of business development, Be Inspired PR, Manhattan Beach
Business: Publicity for photographers, dress designers, bakers and other vendors who cater to the upscale wedding industry
Employees: 5
Financials: 300 percent growth from 2008 to 2009
Fact: Leila Khalil ran the business out of a bedroom office until she had enough clients to lease an office in Manhattan Beach.
Though Leila Khalil served a short stint as someone else's employee after graduating from Santa Clara University in 2002, the L.A. native always knew she wanted to work for herself one day. The entrepreneurial bug runs in the family.
"Our father is a serial entrepreneur, who now runs a boutique marketing firm," said Leila Khalil, the oldest of five children. "He came from Lebanon with nothing in the 1970s, not even knowing English, and now speaks four languages and runs a multimillion-dollar business."
Dad, Charles Khalil, works with Exxon-affiliated convenience store owners to promote their businesses. His 29-year-old daughter, Leila Khalil, aided by the business development expertise of her 25-year-old sister, Kellee Khalil, gets publicity for wedding photographers, couture dress designers and gourmet caterers in prominent wedding magazines, and on Web sites and TV shows.
"We market high-end professionals who put on luxury weddings, showers and related events," Kellee Khalil said.
Leila Khalil honed her publicist skills and wedding industry expertise at editorial and marketing jobs for lifestyle and business trade publications. She eventually began publicizing events put together by a wedding planner she knew. The planner started letting her vendors know about Leila Khalil's skills and they started calling her for advice. In 2007 Leila Khalil took her savings and founded Be Inspired PR.
"These vendors were great at the creative end of what they did, but didn't know how to create a brand and promote themselves," she said. "We help our clients not only with that, but also on how to set their price points, establish a Web site, do social media effectively."
Leila Khalil said breaking into the insular wedding publication industry was difficult at first because most of the publications are based in New York and are run by editors who have been in the business for decades. On the other hand, the sisters' youth has proved an asset in making contacts in electronic media, particularly wedding blogs and Web sites.
"It was a matter of being persistent and knocking on a lot of doors," Leila Khalil she said.
Leila Khalil said it took at least six months before client fees started to pay the bills. Kellee Khalil, a graduate of the USC Marshall School of Business, came on board as business development director last year, and the business has boomed since.
Be Inspired now has 15 full-time clients, many outside the L.A. area. The sisters plan to take on three more after Leila Khalil's wedding is over in May.
The sisters said they have turned prospective clients away because they don't want to grow too fast. Instead, they've launched a separate business under the Be Inspired umbrella, aimed at educating vendors about how to build their business. Kellee Khalil is moving to New York in June to open an East Coast office and strengthen ties with the publishing industry there.
"We now get inquiries from everyone from young entrepreneurs trying to break into the industry to people who have been in the business more than 20 years and are afraid they are no longer relevant," Kellee Khalil said. "We are the demographic they are trying to reach with their marketing."
For reprint and licensing requests for this article, CLICK HERE.