Focus on International Trade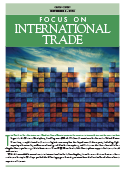 Custom Content from the Los Angeles Business Journal
---
The Port of Los Angeles and Port of Long Beach combine to make our region's sea ports complex the largest in the Western Hemisphere, handling over 40% of all inbound containers for the entire United States. Over time, a sophisticated and mature logistics economy has developed around these ports, including high-capacity rail networks, endless warehousing and distribution options, and businesses that have located in Los Angeles County to leverage this infrastructure. Over 160,000 workers in L.A. County alone support the international trade sector. With this remarkable commitment to international trade in Los Angeles, it made sense that we feature a focus section on the topic. We hope you find the following pages – featuring content from the Port itself and other relevant experts – of interest.
---
Inside this supplement:
Port of Los Angeles Unveils World's First Zero-Emissions Top Handlers
Clean cargo handling operations at the Port of Los Angeles are taking a giant leap forward with the the world's first zero-emissions top handlers...
Read More
---
New and Comprehensive Online Export Documentation Solution Platform Launched
Los Angeles area businesses seeking to compete in the global marketplace now have an additional tool to expedite securing export documentation with increased efficiency and accuracy...
Read More
---
Los Angeles' Role as a Global Trade and Foreign Investment Leader
The Los Angeles Area Chamber of Commerce works to encourage the White House, U.S. Congress and the U.S. Trade Representative to support the negotiation of fair and free trade agreements to increase employment through expanding international trade and investment...
Read More
---
Port of Los Angeles Announces Fall and Winter 2019/20 LA Waterfront Event Schedule
Though the lazy days of summer are over and kids are back in school, there are still plenty of fun events to enjoy on the LA Waterfront as the fall and winter seasons approach...
Read More
---