LA MANUFACTURING
Recent and archived news stories on: Aerospace, Agribusiness, Chemicals, Electronics, Energy, Fabrication, Industrial, Plastics, Textiles...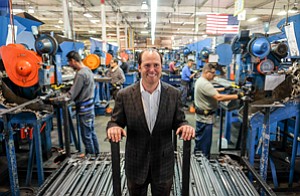 Chain Reaction
Wal-Mart's made-in-USA program has helped bolster sales of frame maker Hollywood Bed.
Faraday Future, the Torrance-based electric car company, is facing a trademark lawsuit from an unrelated business called Faraday Bicycles.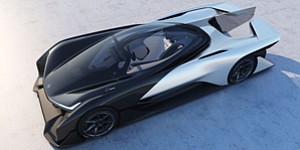 With the lease officially signed in the fourth quarter of 2016, Brea-based AST Sportswear Inc. has finally moved into the former American Apparel facility in Hawthorne.
Pulling Plug?
Santa Monica's energized office market is squeezing power supply maker Pioneer Magnetics.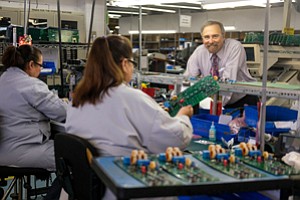 The twin ports of Long Beach and of Los Angeles saw increased cargo traffic in March. The Port of Long Beach saw a 20 percent increase in its cargo numbers compared to a year ago and posted its best quarter since 2007. The Los Angeles port saw a whopping 29 percent jump in incoming cargo containers compared to the year earlier.

Pritzker Group Private Capital's recently acquired ProAmPac on Monday folded in a competitor in the packaging manufacturing industry, marking the first deal of the year for the West L.A. private equity firm.
SHIPPING: Port businesses wait as partners come together.
New alliances among cargo lines have left some port businesses high and dry on scheduling.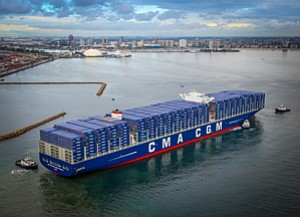 Dov Charney is following his American Apparel blueprint by inking an exclusive wholesale distribution deal for his new clothing venture with one of the same companies he worked with before.
Industrial PowerSource will keep staff, run as Santa Fe Springs subsidiary of new parent, Crown.
Deal for battery maker Industrial PowerSource has the new owner amped up.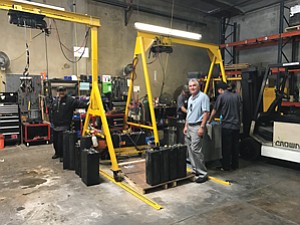 Industrial PowerSource Inc., a distributor and servicer of industrial batteries has been acquired by Crown Battery Manufacturing Co. for an undisclosed amount.
The Port of Long Beach plans to give out $46 million in grants to community organizations to develop health programs in areas most affected by port-related pollution in the San Pedro Bay.
L.A.'s solar power industry grew by 11 percent in 2016 over 2015, but dropped to second place for most solar-related jobs in the nation's metropolitan areas, according to a report issued Tuesday by the Solar Foundation, a Washington D.C. nonprofit dedicated to promoting the solar power industry.
Analytical Industries Inc., a manufacturer of oxygen sensors and gas-analysis products for a range of industries including the U.S. military, has been acquired by Boston-based Battery Ventures for an undisclosed amount.
APPAREL: Five Four scores promotional assist courtesy of Clippers star Chris Paul.
Men's fashion firm Five Four has put its latest campaign in the hands of hoops star Chris Paul.
By Kat Speed
March 24, 2017
MANUFACTURING: Pickup of rival will boost presence, revenue of Nelson-Miller.
Maker of electronic controls says its deal for a rival pushes all the right buttons.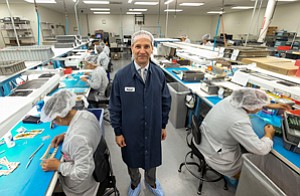 Prev Next