Nammi Looks to Raise $20M
BIOTECH: UCLA spinoff developing cancer treatment
Friday, May 10, 2019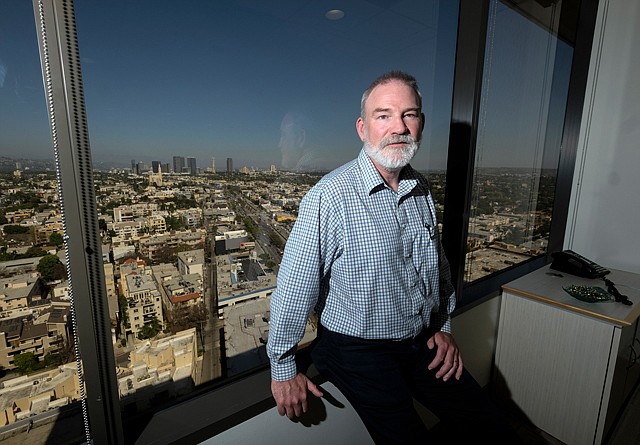 Biotech bloom
The seeds for an emerging biotechnology company, if they ever sprout, can take more than a dozen years to germinate — and it typically requires hundreds of millions of dollars to bring a drug to market, industry watchers said.
Stover, a native of upstate New York with a Ph.D. in biochemistry, had spent a quarter century helping to develop both small molecules and biologics when Astellas shut down its Agensys oncology subsidiary in February 2018.
"I'm out of a job," he said. "My wife doesn't want me to leave L.A. My daughter's in high school in Culver City. And I said to myself, 'There are no similar companies here. So I'll start one myself.'"
He had not been active in any local biotech network before, so he joined the Southern California Biomedical Council, also known as SoCalBio. He also joined the board at Meditope Biosciences Inc., a biotech company based in Pasadena and took on a role as part-time chief executive at i2 Pharmaceuticals Inc., based in Colorado.
Through Doumani, who died in March, he met Nel and Meng, who had published peer-
reviewed research on using nanoparticles one-tenth the size of a human cell to deliver a chemotherapy drug and a small-molecule immunotherapy directly into a cancer tumor, reducing the damage to healthy tissues.
Their Namm-1 immunotherapy — a dual combination of the chemotherapy drug doxorubicin and an immunotherapy known as 1-MT — can be employed against various cancers, including breast cancer, ovarian cancer and Kaposi's sarcoma.
It is designed to kill certain cancer cells as well as mobilize the body's immune system to wage war upon the rest.
"It causes cell death in a way that activates the immune system," Stover said. "We don't know of anyone else that has done this combination therapy. It's a one-two punch. Each individually can hurt. Put 'em together and you knock it out."
Raising capital
There are nearly a dozen biotech companies in Los Angeles County working on drug delivery platforms, but only Nammi has the combination of a vehicle-payload system and money to back its development, according to some observers in the local biotech community.
"They've got the brains. They have also raised a significant amount of money," said Ahmed Enany, chief executive of SoCalBio. "So they've got the two main ingredients for the success of an emerging bioscience company: talent and money."
While the science emerged from UCLA, it was company chairman Rice who opened up his Rolodex and lined up potential investors.
Rice and Stover, who is the Nammi's chief executive, have embarked on an ambitious fundraising mission, giving presentations to woo investors and land the millions needed to launch the firm.
In addition to the $20 million Series A round, Nammi is also seeking to partner with a major pharmaceutical firm to assist with the cost of drug development and commercialization.
Funding is crucial because federal drug testing can cost hundreds of millions of dollars.
Nammi Therapeutics currently has three employees, but it is in the process of staffing up locally.
"It's actually a great time in Los Angeles to start something," Stover said. "There's just a feeling that L.A. is ripe to become a real biotech hub with the right critical mass and the right experience and expertise."
For reprint and licensing requests for this article, CLICK HERE.
Prev Next