Spectrum News Starts Nov. 16
MEDIA: 24-hour channel to aim for underserved areas
Friday, October 26, 2018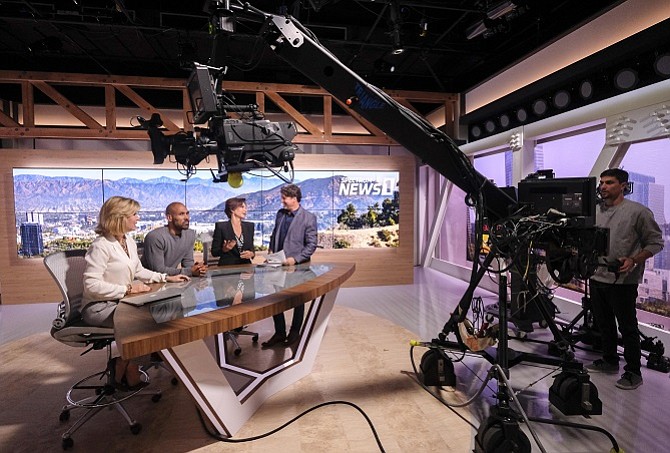 Charter Communications Inc. is aiming for what it sees as an open niche with the upcoming launch of Spectrum News 1, a 24-hour TV channel focused on neighborhood news across a broad swath of Southern California.
"We are trying to serve our local communities in a different kind of way," said Scott Warren, senior director of news and content for the station, which will be available to Charter's 1.5 million or so pay TV subscribers in the greater Los Angeles area. The news will air on channel 1, exclusive to Charter subscribers.
Spectrum News 1 has hired 125 full-time employees in anticipation of a Nov. 16 start, Warren said in a recent interview at the station's El Segundo office. The staff will include 30 multimedia journalists assigned to report on neighborhoods in Los Angeles, Ventura, Riverside and Orange counties.
The news operation's mission, Warren said, "is to give a voice to the people that are underserved" by local coverage that can give short shrift to areas, such as South Los Angeles, or insufficient attention to topics that are important but often unsensational, such as education.
Full disclosure: The new channel plans to air a weekly segment with Los Angeles Business Journal Publisher Anna Magzanyan, who will discuss stories from the newspaper's current edition on a morning newscast.
"As the definitive business news source of L.A., Los Angeles Business Journal is excited to work together with Spectrum and share our news content to a wide viewing audience," Magzanyan said.
Spectrum News 1 has not struck partnerships with any other media outlets, a Charter spokeswoman said, but it might pursue some in the future.
Some Los Angeles media observers say the news channel could challenge established local broadcast media with a chance to gain standing similar to what Spectrum News NY1 has achieved in the New York City market.
"NY1 has made a real mark in New York City," said Bob Papper, a journalism professor at Hofstra University who specializes in studies on local news. "It's a serious player in local news."
Los Angeles' Spectrum News 1 likewise "might be able to create a niche," Papper said, if the station sticks with its plan "to minimize car chases and celebrities."
Other experts say the station might be spread thin covering an area of thousands of square miles and millions of people.
"I wholly support Spectrum's plan to deepen coverage of this under-covered region," said Gabriel Kahn, a professor at USC's Annenberg School for Communication and Journalism. "But they are up against some powerful forces, including stiff competition from established players who have a running head start and more resources."
Prev Next
For reprint and licensing requests for this article, CLICK HERE.