Industrial Gets Sexy
Demand for e-commerce distribution space, cannabis operations help polish sector's image
Friday, August 31, 2018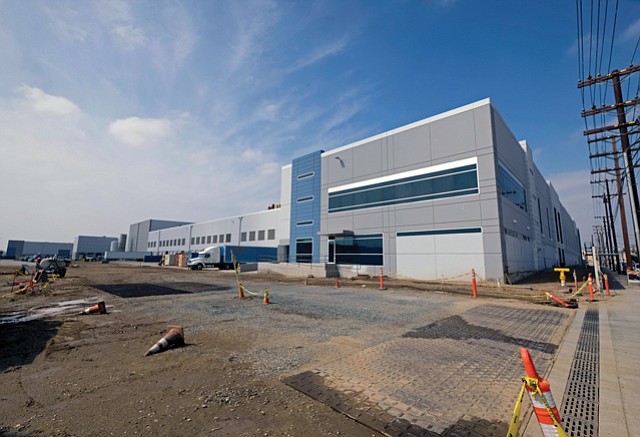 The newly-opened Goodman Logistics Center in Santa Fe Springs, owned by Australian real estate firm Goodman Group, comprises 1.2 million square feet of warehouse space and already is leased out. Tenants include online women's clothing shop Fashion Nova, consumer electronics company Funai Corp., and McMaster Carr, an online supplier of car parts.
Cannabis is another driver behind the industrial market's sexier image.
Cannabis distributors and cultivators have been actively renting warehouse spaces since California legalized marijuana for recreational purposes this year.
420 Real Properties, an Irvine-based firm that offers real estate listings for marijuana companies looking for smaller spaces. One Carson property of 20,000 square feet was rented – for nearly $2 per square foot – more than double the 95-cent average in the South Bay, where the industrial vacancy rate was 1.3 percent last quarter.
"Cannabis distributors are willing to pay a pretty good premium in rent because it's such a high-margin business," said Kevin Burkhalter, senior vice president of capital market at Walker & Dunlop, a Westside-based commercial real estate services firm.
He suspects demand from the cannabis industry has also added upward pressure on rents.
Industrial rent in Los Angeles County shot up in the second quarter by 9.1 percent to 84 cents per square foot year over year.
In the South Bay, asking rent climbed 66 percent to 95 cents per square foot over the past five years.
Meanwhile, the vacancy rate for industrial properties in the county was 1.4 percent during the April-to-June period – up 0.3 points from a year ago, but still near historic lows. And that's even tighter than the 1.8 percent rate in the second quarter of 2008 when real estate was at its zenith right before the Lehman Bros. bankruptcy and the bottom fell out of the economy.
Compare that to this year's office market, which had a vacancy rate of 14.1 percent countywide during the second quarter. Even Century City, the county's tightest office submarket, had a 7.8 percent vacancy rate.
Building challenges
Los Angeles County presents an attractive market – even with a land crunch and entitlement difficulties – to industrial real estate investors and companies seeking to get their goods into consumers' hands as quickly as possible.
Burkhalter of Walker & Dunlop said his commercial real estate services firm has increased its number of industrial loans by 50 percent per year during the last four years.
"There are very few markets that have a 33 percent rent growth in the last four years," he said.
For reprint and licensing requests for this article, CLICK HERE.