Diversity & Inclusion Summit 2018: Connecting People and Uniting the World Through Diversity and Inclusion
Custom Content by the Los Angeles Business Journal
Friday, August 24, 2018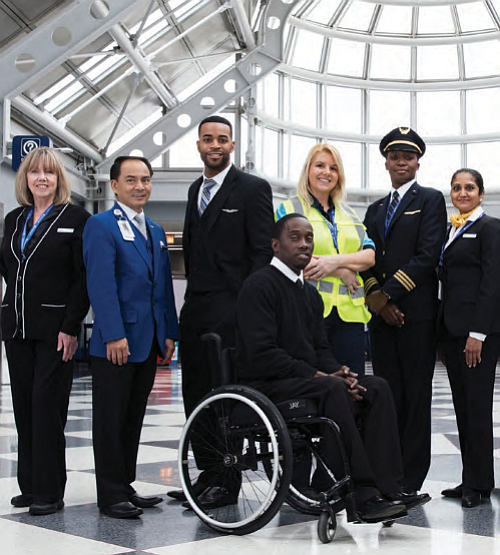 At United, our shared purpose is to connect people and unite the world. That is why we strive to ensure our United family is as diverse as the customers and communities we serve – both in California and around the world – representing every background and belief origin and orientation, color and creed. Our commitment to diversity and inclusion (D&I) is more than a core value for United; that fosters an environment in which people from all walks of life can thrive, collaborate and innovate.
"As a native Californian, I'm proud to oversee our efforts in Los Angeles and San Francisco," said Janet Lamkin, United's new President of California. "United cares deeply about issues that are important to this state, including developing a diverse workforce – not only to enrich the United family, but to better serve our diverse customer community."
RECRUITING DIVERSE TALENT AT UNITED IS JUST THE START
At United, we are dedicated to creating an inclusive work environment, characterized by dignity and respect, that empowers every employee to better serve our customers and contribute to our success.
Instead of merely checking the D&I box, we expect decision-makers to lead with an inclusive mindset. Our goal is for leaders to create a culture in which acceptance and appreciation of everyone is the norm, and each employee is comfortable bringing their full selves to work.
"We have a long-term commitment to diversity that is purposefully built into our operations. By hiring, retaining and promoting diverse talent, we cultivate respect and embrace differences – from senior leadership to frontline staff," said Greg Jones, Chief Diversity Officer. "Our approach treats diversity and inclusion as a core leadership competency."
To help actively implement a D&I mindset among leadership, United launched a leadership session, "Leading in an Inclusive Culture," in 2015. It is a day-long interactive program designed to explore how diversity and inclusive behaviors and awareness of unconscious bias can impact business results, teamwork and innovation. As a company that connects people, ensuring our leadership reflects our customers' diverse backgrounds, cultures, experiences and values is paramount.
EMPLOYEE RESOURCE GROUPS ENRICH OUR CULTURE
To advance our D&I goals and support, engage and develop a more inclusive community, United proudly sponsors several employee-run Business Resource Groups (BRGs).
Across the U.S. and internationally, United currently has five BRGs: LGBTA (EQUAL), Multi-Cultural (UNITE), Veterans (United for Veterans), Women's (uIMPACT) and Next Generation (Gen Trend). Each BRG has launched chapters to engage our frontline. Our BRGs, led by employee volunteers, nurture United's unique talent, enrich our culture and connect us to local communities. Not only are these groups designed to increase awareness and understanding of cultural issues, they are structured to provide leadership roles and networking opportunities to help attract, retain and develop diverse leaders. The process to serve in a leadership position in these groups is rigorous and involves interviewing with HR, D&I leadership and the executive sponsor. These individuals are exposed to unique developmental opportunities and advance through their roles with a stronger sense of values that represent United's community.
For reprint and licensing requests for this article, CLICK HERE.
Prev Next