Artists Canvass Deals at Open Houses
Friday, May 5, 2017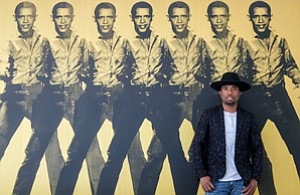 There's more for sale at 1006 Chantilly Road in Bel Air than a $23 million, seven-bedroom mansion.
Also available for purchase are 16 art pieces adorning the walls, including one Andy Warhol-like painting depicting former President Barack Obama as a cowboy and another featuring Marilyn Monroe sporting a Tupac Shakur-style bandana.
The Bel Air spec house is the latest venue for L.A. artist Knowledge Bennett to exhibit his work and pieces by other artists represented by his L.A. agency, Know Contemporary. Seeing an opportunity to ride a marketing opportunity that comes with bringing wealthy buyers through high-end homes, real estate agents and developers are increasingly striking up partnerships with artists and gallery owners as an alternative to hiring a traditional art-staging firm and paying an upfront fee.
Art staging has become more important to agents and developers as they try to draw buyers to their properties – something that has grown tougher due to a huge number of listings available online.
"You have to up your game to compete," said interior designer James Magni, partner at Magni Kalman Design near Hancock Park.
Meanwhile, artists are searching for new ways to get their artwork seen, especially by those with disposable income. While Magni's work mainly involves custom designing home interiors for clients, he sometimes stages spec homes for developers. That involves partnering with artists around town looking for exposure.
"One hundred and fifty top Realtors walking through these houses, their prospective buyers walking through," Magni said. "If it gets featured in Architectural Digest or a magazine or newspaper, then it just sets off their career."
Foot traffic
Bennett said it's especially important for artists in Los Angeles to find alternative methods of showcasing their work because it's harder to draw foot traffic into a gallery than it is in New York, where he owned a gallery before moving to Los Angeles nearly four years ago.
"If we can't get people to come to art, we have to take the art to them," Bennett said.
Know Contemporary, which launched earlier this year, has showcased pieces by Bennett and other artists at six different properties in Los Angeles County so far. The homes have ranged in price from $3 million to $23 million. The company also offers consulting services to art collectors.
Bennett promotes the listing parties at the homes via social media and to previous clients.
"A lot of them are much more inclined to come out and have a night in the hills, or wherever it might be, than they are in a traditional gallery environment," he said.

Prev Next
For reprint and licensing requests for this article, CLICK HERE.