HOUSING: PLAYA VISTA UNITS PROVE PRICEY DESPITE HIGH PAY.
Workers in Silicon Beach Find Coast Costly
Friday, March 3, 2017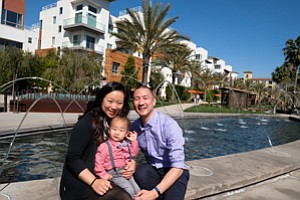 Playa Vista, which has become an extension of Silicon Beach as a Westside tech hub, has been billed by developers in the area as a place to "live, work, and play."
Living up to that billing has so far produced mixed results. Only about 6 percent of those who work in Playa Vista – some 300 people – also live there, according to new data from Playa Vista Compass, a transportation research and consulting firm.
The master-planned community includes residences, restaurants, retail, parks, and office space, all within walking distance of each other. While there are a number of people in the area who do one of the things in the neighborhood's tag line, there aren't that many doing all three.
"Those components are there. But are the same people doing all three? I don't think so," said Dennis Hsii, owner of Playa Vista Premiere brokerage and a resident of the community. "Not as many as they had hoped. It should increase."
The office component of Playa Vista has seen a big uptick in workers over the last two years. The campus comprises 120 acres of creative office space that's home to a growing number of tech, media, and advertising companies, including Yahoo Inc. and YouTube, with the video website's parent, Google, planning to move in soon.
About 5,100 people were employed at the campus last year, up from roughly 2,000 in 2015 – a spike of about 150 percent. Around 11,000 people live in Playa Vista, according to Randy Johnson, executive vice president of Brookfield Residential Properties Inc., the community's master developer.
Those numbers do not include spillover that has seen companies such as Facebook Inc., Sony Corp., and gossip website TMZ take space across the street from the master-planned community.
One likely reason for the low live-work numbers is that Playa Vista cemented its status as a Silicon Beach hub long after the first residents began arriving in 2002.
More than half of Playa Vista's housing stock – roughly 3,200 condos, apartments, and single-family homes – was completed by 2008, before Silicon Beach was even a term. The office campus' first building was completed that same year, Johnson said, with consumer electronics company Belkin International Inc. becoming one of first tenants on the campus in 2010.
An additional 2,800-plus residential units started construction in 2013, and the office campus has seen an explosion of growth since then. Google purchased 12 acres in Playa Vista in 2014 and has leased the 319,000-square-feet Spruce Goose Hangar for further expansion. Johnson estimated that with Google and the newly finished Brickyard office complex, 8,500 more employees will be headed to the campus over the next couple of years.
Prev Next