SHIPPING: NEW ALLIANCES FOR MEGASHIPS COULD TANGLE PORTS.
Big Order to Fill
Friday, March 3, 2017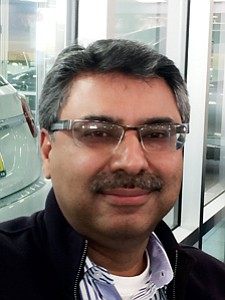 With less than a month before new global shipping alliances are set to go into effect, some L.A. businesses are bracing for potential cargo delays and logistical problems at local ports as many unknowns remain.
The ports of Los Angeles and Long Beach already have been hit with slowdowns in recent years thanks to earlier alliance rollouts, labor disputes, and the bankruptcy of a major shipping company.
"My big fear is delay. I just can't continue to ship late to customers," said Alex Rasheed, owner and president of downtown clothing importer Pacific Textile and Sourcing Inc.
The company, which was founded in 2002 and has 10 employees, imports men's basic wear for clients including J.C. Penney Co., Macy's Inc., and Wal-Mart Stores Inc.
Last year, Pacific Textile lost $100,000 when $2 million worth of cargo, about half of its monthly imports, was stranded for two months after the bankruptcy of Hanjin Shipping Co., he said.
The global shutdown of the shipping line's operations caused containers to pile up at the Port of Long Beach and delayed deliveries worldwide.
Two new alliances, in which some of the world's largest cargo movers are consolidating operations by sharing space on ships to cut costs, now have the potential to add to shippers' headaches when they launch April 1. One of the alliances still hasn't informed ports and the greater supply chain where and when it plans to unload cargo, and efficiently unloading a jumble of containers from several companies off a single ship has already proved a challenge for ports.
The two new partnerships are the Ocean Alliance, made up four carriers, including French and Chinese lines, and one known as The Alliance, with five members including three Japanese carriers, are set to go live next month. They will be two of three alliances worldwide after the 2015 launch of 2M by Denmark's Maersk Line and Geneva-based Mediterranean Shipping Co.
"I call it the big bang of 2017," David Arsenault, former chief executive of Hyundai Merchant Marine in the United States and now an independent consultant, told a crowd last week during the Trans Pacific Maritime conference in Long Beach. "We've had alliances form and come and go, but it's all been staggered in the past. This is the first time we're seeing all three go into effect at once."
Rough waters
Shipping companies have been using such alliances to make up for an overcapacity of cargo space and plummeting rates in recent years. That shortfall has caused major carriers to post losses in the billions of dollars and was what drove Hanjin, once South Korea's largest line, to bankruptcy.
Prev Next