FOOD: GAIL BECKER CREDITS LAUNCH OF CAULIPOWER TO HER QUEST TO FEED HER TWO SONS.
Mother's Pizza Fare Seeks Slice of Gluten-Free Pie
Friday, June 23, 2017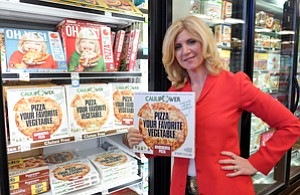 Gail Becker used to find herself coming up short on searches for healthy gluten-free foods for her two sons, both of whom have celiac disease.
That led the then-public relations executive to cook up her own gluten-free dishes, eventually leading Becker to quit her PR career and start food company Caulipower in February.
"My two boys are the reasons why I started the company," she said. "They are both on a gluten-free diet, and after trying out a home-made cauliflower-based pizza crust, I couldn't find anything similar to purchase afterwards, and that's where I saw a gap in the market."
The maker of frozen cauliflower-based pizza crusts and pizzas, which Becker runs out of her Laurel Canyon home, is set to expand its distribution nationally this month to more than 1,000 stores across the nation. The company's products, already in some Whole Foods Market Inc. and Bristol Farms Inc. locations, are heading to health food stores and supermarkets including Mom's Organic Market, Gelson's, Acme, Safeway and Vons.
The expansion comes after the global gluten-free market grew from $1.7 billion in 2011 to $3.5 billion last year and is forecast to grow to $4.7 billion in 2020, according to London-based consumer market research firm Euromonitor.
That increase has largely stemmed from an overall trend of consumers seeking healthier food options, but for Becker's sons ages 14 and 19, it was especially important.
Both were diagnosed 11 years ago with celiac disease, an autoimmune disorder that causes the body's immune system to attack and damage the small intestine when gluten is present. Gluten is a protein that is found in wheat, rye, flour and malt, among other foods.
Becker launched her company with a distribution deal that included 30 Whole Foods and Bristol Farms stores in the Southern California, Arizona, and Nevada markets, which was followed by sales on Amazon.com.
Caulipower has seen a 10-fold increase in production lately, increasing to 90,000 pizzas a month from 9,000 four months ago, Becker said. She wouldn't provide revenue numbers, but the pizzas retail for $7.99.
Cauliflower calling
It all started for Becker when she saw a cauliflower pizza recipe on Pinterest a few years ago. Her sons loved it but it would take her 90 minutes to bake, time she didn't have. She looked to purchase it online and in supermarkets but couldn't find anything similar.
"There were more than 500,000 recipes for this online, but no one was selling it," she said.
Prev Next