ON ROLL IN HOLLYWOOD
Golden Globes Turns Up Shine at Beverly Hilton
Friday, January 6, 2017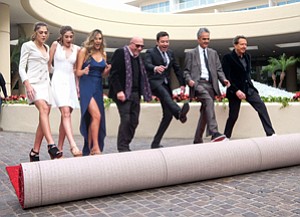 What does the weather have to do with dessert? At the Golden Globe Awards, scheduled for Jan. 8 at the Beverly Hilton, a sunny day can wreak havoc on the sweets course at the lavish preshow dinner in the International Ballroom.
Just ask Beverly Hilton executive pastry chef Thomas Henzi, who's in charge of a 12-member team scheduled to spend the Friday and Saturday before the awards creating 30,000 individual pastries for the dinner and many ancillary parties at the hotel.
"When the weather is good, the celebrities spend more time outside on the red carpet and end up with only 10 minutes to eat," said Henzi at this week's official unveiling of the menu for the 74th annual Golden Globes. "When it's cold, we prepare more desserts."
That's just a small part of the massive logistical undertaking of planning the hotel's biggest red-carpet event among the roughly 200 it hosts each year, said Manager Michael Robertson. Sunday night's Globes would mark the 46th time the Beverly Hilton has hosted the Hollywood event and the 42nd consecutive year at the iconic 61-year-old hotel.
It is the most complicated event hosted by the property.
"The Golden Globes transform the hotel into a small city," Robertson said by email during this week's flurry of event preparation, including the ceremonial rollout of 30,000 square feet of red carpet to dress up the hotel's driveway and entrance for the arrivals show. "What makes this all the more complicated is the extensive security plan that closes the area surrounding the hotel to create a secure environment."
The Golden Globes "city" includes nearly 6,000 people. The breakdown: About 1,300 guests participate in the live telecast of the awards show. About 3,000 additional guests attend viewing and after-parties held throughout the hotel. More than 185 media outlets (58 camera crews, 65 still photographers, and more than 100 journalists) are to be on hand to cover the event, along with 11 chefs, 120 culinary staff, 50 bartenders, and 160 stewards as well as 250 servers catering to both the awards dinner and after-parties.
Aside from those involved in the awards show, the only regular hotel patrons during Golden Globes weekend (Jan.7-9) are those who book the Golden Globes package, which includes such perks as reserved bleacher seats on the red carpet (with box lunch) and a Globes-themed gift bag. This year's two-night package for two went for $3,220 and up.
Prev Next