Sports Titans Profile: Peter Guber
'It's the beginning of the beginning'
Friday, December 29, 2017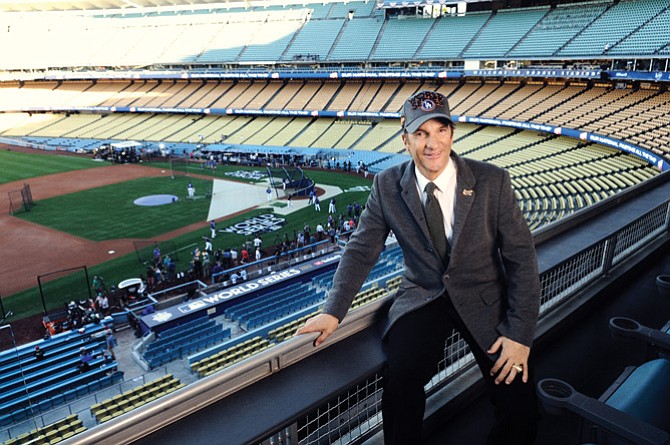 Peter Guber was there in '88. Dodger Stadium, Game 1 of the World Series, Los Angeles Dodgers vs. the Oakland Athletics.
Well, he was there for most of it.
Guber had made it to the parking lot by the time Kirk Gibson came to bat in the bottom of the ninth with the Dodgers down 4-3.
"The team wasn't playing that well, so I decided to go home in the eighth inning," he recalled. "I came out of my seat and I'm in the parking lot and I hear this noise I've never heard in my life before – it was like air being sucked in and air being sucked out in the same moment. It was like, 'Oh, my God, what is that?' Kirk Gibson hit the home run and I'd missed it. I missed it."
Guber, an Oscar-winning film producer, sports team owner, former music company executive, has had lots of hits and misses in his career.
This one left a mark.
"I'd come all that way to see some event and realized that I'd left in the last half of the third act, thinking they weren't going to do it, that somehow the last half of the third act wasn't as important as the first act," he said.
His early exit before Gibson's historic blast helped shape his view of sports –and of business in general.
"The audience was so famous in Los Angeles then for coming the movies late, coming to the Lakers games late or leaving early, and I began to realize that the last three outs of the game are as important as the first three. And now, if someone says, 'It's really time to leave,' I say, 'Maybe, maybe not.'
"I have a more leavened attitude toward feeling the pain of failure. Failure is my lesson now. I believe if you're not failing enough it means you're not trying enough, it means you're going to be ordinary."
Guber has failed – often – and is by no means ordinary.
Ups and downs
He moved to Los Angeles in 1968 to join the production and studio operations at Columbia Pictures. Three years later, at 31, he was the studio's vice president of worldwide production. He moved on quickly, setting up his own production company two years later and then forming Casablanca Record and Filmworks Inc. in 1976. He then formed PolyGram Entertainment and co-founded Guber-Peters Entertainment Co., with Jon Peters,
For reprint and licensing requests for this article, CLICK HERE.
Prev Next