INNOVATION STATION
'FabLab' Gives Northrop's Engineers Room to Experiment for Fun, Profit
Friday, August 4, 2017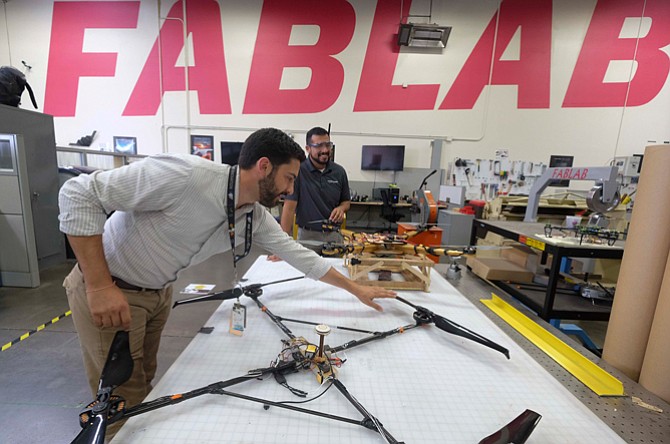 Northrop Grumman Corp.'s L.A. roots date back to 1939, but the aerospace firm always keeps an eye on the future.
The company – perhaps most well-known for building the B-2 bomber – opened an innovation and experimentation center called the Fabrication Laboratory on its Space Park campus in Redondo Beach three years ago.
It's called the FabLab for short – and it's long on results, according to the Northrop engineers who mix work and play there.
Employees said the facility's collection of equipment, which includes 3-D printers, machine tools and welding tools, is enabling them to create prototype parts faster than ever before.
The shop's focus on thinking outside the box is changing not only Northrop's traditional manufacturing processes, which rely heavily on computer simulations and third-party machine shops, but also the company's culture.
"There is a whole new world of rapid prototyping tools that are available now that really make it so an individual engineer or designer can create a product, iterate on it and then get a really good solution," said Tony Long, Northrop's manager of innovation spaces. "We didn't have that kind of facility here that could support that kind of behavior."
Northrop has judged the facility to be so successful that it has opened duplicates in three of its other facilities in San Diego; Melbourne, Fla.; and St. Augustine, Fla. The company also plans to open a fourth FabLab in Palmdale this month.
Falls Church, Va.-based Northrop is publicly traded, with 67,000 employees around the globe; a market value of about $45.9 billion; with revenue of $24.5 billion last year, when it earned $2.2 billion.
Northrop is the largest manufacturer in Los Angeles County, with 16,600 employees (see related Executive Office, page 44). It operates local manufacturing facilities in Redondo Beach, El Segundo and Woodland Hills.
Its Redondo Beach lab, a 5,500-square-foot space housed in a former shipping warehouse, is open to all employees to work on any project they choose, including after-hour hobbies. The company declined to disclose the upfront cost of launching the facility.
Northrop owns the rights to any inventions built at the FabLab, but if a creation is not of interest to the company, employees can request a release of the intellectual property or a license to use it.
Employees are required to take an orientation course before using the shop, plus additional training if they want to use dangerous equipment such as mills and lathes. Some 2,500 employees have become members of the facility since its launch and about 250 of those cycle through the FabLab each month.
Prev Next