Brokers Invest in Videos To Help Frame Mansions
HOUSING: Partners Trust duo drew on 'La La Land' to pitch $8.5 million home.
Friday, April 21, 2017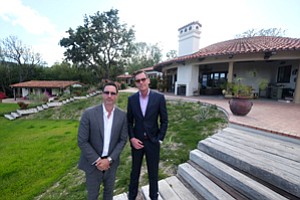 With so many mansions in Los Angeles County, calling attention to a home's spacious grounds or sweeping views might not be enough.
That's why you'll find dancers waltzing through a seven-bedroom, 10-bathroom estate in Encino in a marketing video set to the catchy tunes of the Oscar-winning film "La La Land."
But making such an intricate production can be expensive. The eight-minute video cost more than $5,000 to produce and has created a buzz among fellow agents and the media. It has also piqued the interest of six to eight prospective buyers for the $8.5 million property so far, said listing agent Horacio LeDon, president of new development at Partners Trust of Beverly Hills, who paid for the video out of his own pocket.
"It's a calculated gamble," said LeDon about footing the bill for marketing videos.
More real estate agents are opting to take that risk, and they are increasingly drawing inspiration from Hollywood in their attempt to sell luxury properties. Rather than staging the Encino home with high-end housewares, LeDon and fellow listing agent Mark Rutstein created an original storyline with a unique element aimed at helping the video go viral.
The production, titled "Oak View Land" after the home's Oak View Drive address, had about 2,300 views on Vimeo as of last week.
"I didn't want to pigeonhole the property into this fictitious tech billionaire, 24-hour party house," said LeDon. "That's where the majority of that video product has been geared to."
Mercer Vine, a brokerage headquartered in L.A.'s Fairfax District, was also striving for something a bit different in its video for a home at 1420 Laurel Way in Beverly Hills that's listed for nearly $14 million. The video features a couple of dancers clad in black moving throughout the home and is set to a pulsing rhythm.
Emmanuelle Pickett, the brokerage's creative director, said her goal was to create a mood rather than define the property through a storyline. The video is the agency's most expensive to date, and it is planning more in the future. Pickett declined to say how much the company spent on the video.
Though it might seem counterintuitive, the product isn't necessarily targeted toward people actively searching for a home, said Adam Rosenfeld, a founding partner of Mercer Vine.
"People on the market are going to be looking at Zillow, the MLS, Trulia," he said. "These videos are good for social media outlets, press outlets, where it starts to reach a much vaster audience – people who aren't necessarily on the hunt, but they might know somebody who is interested."
For reprint and licensing requests for this article, CLICK HERE.
Prev Next