Tight office market has power supply maker mulling options
Pulling Plug?
Friday, April 14, 2017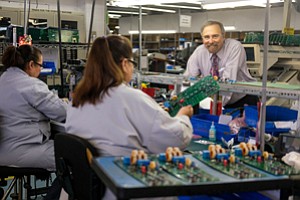 Power supply manufacturer Pioneer Magnetics Inc. has operated in Santa Monica since 1960, but as tech and entertainment startups move into the area driving up rent and eating up parking, the company fears it might be pushed out.
"The key question for me is: How do we keep our business in Santa Monica?" said Jerry Rosenstein, 72, chief operations officer. "We've been longtime tenants in Santa Monica, 57 years to be exact, and we'd like to stay."
But the company, founded by his father, sits amid a neighborhood transformed in recent years as manufacturing companies have fled while new neighbors, both startups and industry giants Yahoo Inc., Revolution Studios, Lionsgate Entertainment Corp., and HBO, have moved in.
LOTS OF TROUBLE WITH PARKING
Santa Monica is no stranger to parking issues, and businesses including Pioneer Magnetics Inc. are no exception to the problem.
"We have only five parking spaces for a staff of up to 100," said Jerry Rosenstein, chief operations officer, said. "There is tons of residential street parking around our business that's available during the day but we can't use them."
The Bergamot mixed-use creative district where the company is located is mostly surrounded by residential streets where permits are required to park.
"There's been a successful resident advocacy movement that's helped with residential parking permits over time, and yes, it has impacted businesses like Pioneer that are located close to residential streets," said Constance Farrell, public information coordinator for the city.
Farrell noted that "when Pioneer bought its buildings, it did so without purchasing parking, and we can't change that."
That's the case across much of the city.
To try to alleviate some of the issues, the city implemented a bike-sharing system in November 2014 called Breeze Bike Share, Los Angeles County's first such program.
But that mostly benefits tourists and Santa Monica residents who work in the city.
Rosenstein said some of his employees commute from as far as Palmdale, Valencia, and Alhambra. Even with the Expo Line light-rail extension into downtown Santa Monica, which began service in May, the majority of his employees don't benefit because they don't live close to rail stations.
Older manufacturing firms aren't the only ones affected.
Papermate Co.'s manufacturing facility, just west of the Pioneer location, was purchased by New York real estate firm Clarion Partners last year and is being redeveloped into a 220,000-square-foot creative office project called the Pen Factory.
Clarion addressed the lack of parking in the area by building an underground garage that can house around 100 spots, said Rick Buckley, a principal at L.A. Realty Partners and leasing agent for the site. The property, which is scheduled to open later this year, is to have 700 parking places. – Shwanika Narayan
Prev Next