PULLING PLUG?
Tight office market has power supply maker mulling options
Friday, April 14, 2017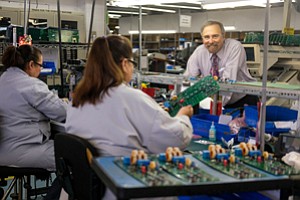 Power supply manufacturer Pioneer Magnetics Inc. has operated in Santa Monica since 1960, but as tech and entertainment startups move into the area driving up rent and eating up parking, the company fears it might be pushed out.
"The key question for me is: How do we keep our business in Santa Monica?" said Jerry Rosenstein, 72, chief operations officer. "We've been longtime tenants in Santa Monica, 57 years to be exact, and we'd like to stay."
But the company, founded by his father, sits amid a neighborhood transformed in recent years as manufacturing companies have fled while new neighbors, both startups and industry giants Yahoo Inc., Revolution Studios, Lionsgate Entertainment Corp., and HBO, have moved in.
That transition was hastened when the city rezoned the district, known as Bergamot, to mixed-use creative in 2013. The result was that Santa Monica's few remaining manufacturers, already facing the challenges of a changing and modernizing industry, were further squeezed as rents rose.
Rosenstein said his 45,000-square-foot manufacturing and office building, at Berkeley Street and Nebraska Avenue, is now the only traditional manufacturing facility in the area.
The office influx has also squeezed parking in the area.
The number of available spaces has dwindled as parking lots were converted into office buildings, and Pioneer, which employs 100 people, has just five spots allocated for its staff of 100.
Rosenstein said the situation has become so dire the lack of parking has been cited as a reason potential hires have turned down engineering jobs at the company.
"There was a time where I could say we had unlimited parking. Just 10 years ago we shared parking spaces with a school nearby, there was a double-story building down the street for parking, but now that space is business offices," he said.
Old factory buildings are being converted into creative spaces, according to Rick Buckley, principal at L.A. Realty Partners.
"There are 500 tech startups that have come into the area since 2014 with a total of $7 billion commitment from tech venture firms," he said. "A lot of companies like Pioneer are facing this issue not just in Santa Monica, but in the Silicon Beach region."
Buckley said that while it's unfortunate that Pioneer is facing displacement, more jobs are being brought in due to the tech and media startups in the area.
Manufacturing decline
Pioneer was co-founded in Van Nuys 60 years ago by Rosenstein's father, Allen Rosenstein, and a friend, before moving three years later to a 5,000-square-foot Santa Monica facility, which the company expanded and continues to use today.
Prev Next