Firm Offers Cut Suits as Real Plus to Medical Training
HEALTH CARE: Firm offers Cut Suits as real plus to medical training.
Friday, September 9, 2016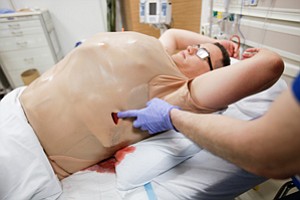 The simulation center opened three years ago at Cedars, and the 10,000-square-foot space includes two fully functional operating rooms, an intensive care unit, an OB/GYN unit, and a trauma bay. Each room is set up to mirror an actual facility, complete with lifelike mannequins that have heartbeats, blink, talk, and breathe, and can even be used to practice obstetric procedures and heart surgery.
Over the course of a year, more than 20,000 staff and visiting medical personnel will use the simulation center's services, said Metcalfe-Smith, from top-notch surgeons sharpening their skills to cleaning crews practicing decontamination of hospital rooms. In addition to internal medical staff, the center has hosted training sessions for local schools and emergency service teams, including paramedics from the Beverly Hills Fire Department.
"We can reduce the amount of error by making sure staff are confident and competent here in the simulation facility," he added.
Even if a medical mistake isn't fatal, it can result in costly, long-term health or financial complications for a patient and health care provider, said Metcalfe-Smith.
That's where the Cut Suit comes in.
Cutting-edge
Designed and manufactured by San Diego-based Strategic Operations Inc., the Cut Suit is made of plastics and elastomers including silicon and urethane, a much safer material on which to practice than human tissue.
"If you can't make a mistake, you don't know how to recover from it," said Kit Lavell, Strategic Operations' executive vice president.
The company was founded in 2002 as part of Stu Segall Productions, a TV and film studio that specialized in action and adventure flicks. The studio saw a sharp decline in production demands after the 9/11 terrorist attacks, so Segall decided to repurpose the hyper-realistic sets, props, and special effects to go into the business of military and law enforcement training.
"We created a unique blend of military and Hollywood," said Lavell.
Strategic Operations has been developing the surgical Cut Suit over the last five years, he said, building a three-dimensional, interactive training tool with skin that can be sliced open and ribs that can be broken. The surgical Cut Suit comes equipped with synthetic blood designed to look, and even smell, like the real thing and uses a patented "Liquid Ass" smell that gets released when an incision is made into the bowels.
Growing industry
While national medical school standards set by the Accreditation Council for Graduate Medical Education require residents in certain programs have access to simulation, the way in which this training is fulfilled is at a school's discretion.
For reprint and licensing requests for this article, CLICK HERE.