City Sued Over Use of LAPD at Rams Games
Thursday, September 1, 2016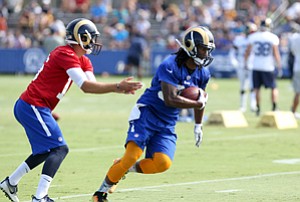 A lawsuit filed Wednesday by former City Councilman Dennis Zine accuses the City of Los Angeles and Los Angeles Police Department Chief Charlie Beck of illegally deploying police officers as security for pre-season L.A. Rams games, calling the action an "unlawful gift of public funds."
The Rams are, "receiving valuable public resources in the nature of increased security and law enforcement presence without expending its own funds to do so," according to the complaint.
The suit states that on Aug. 13 and Aug. 20, more than 200 on-duty LAPD officers were assigned to the L.A. Memorial Coliseum to provide a range of services, including traffic control and security, during two Rams pre-season games. These officers were pulled from regular assignments in Robbery Homicide Division, Major Crimes Division and Patrol, among others, resulting in a "negative impact" on the officers' ongoing investigations and crime suppression efforts. These effects were coupled by the fact that violent crime in L.A. has increased 40 percent since 2014, and the LAPD faces "significant staffing issues" that already make it difficult to fully protect all parts of the city.
The suit calls for "immediate judicial intervention" to prevent future misuse of city resources.
This issue of security during the upcoming Rams season has been at the forefront of city debate. On Aug. 12, councilmembers Mitch O'Farrell and Nury Martinez submitted a motion requesting the LAPD report on the effects the Rams season will have on the department's overall deployment and response times. With 300 to 400 officers required for each Rams game, the motion also asked for an estimate of how much LAPD staffing would cost.
Four councilmembers also sent a letter to Rams owner Stan Kroenke, requesting that the team "fully fund the public safety contingent" including necessary staffing from the LAPD, Los Angeles Fire Department, Los Angeles Sheriff's Department and California Highway Patrol.
"The need for safety on our streets, in our subways and light rail stations and within the neighborhoods that you will be impacting cannot be overstated. It is imperative that the costs be fully covered and that only off-duty officers be employed," the letter states.
The Rams first regular season home game is on Sept. 18 against the Seattle Seahawks.
Staff reporter Hayley Fox can be reached at hfox@labusinessjournal.com. Follow @EPfox on Twitter for the latest in L.A. news.
For reprint and licensing requests for this article, CLICK HERE.