Ad Tech Firm Restocks Brass, Jumps to Nasdaq
INTERNET: Social Reality hires new CFO, turns to Kathy Ireland for advice.
Friday, October 28, 2016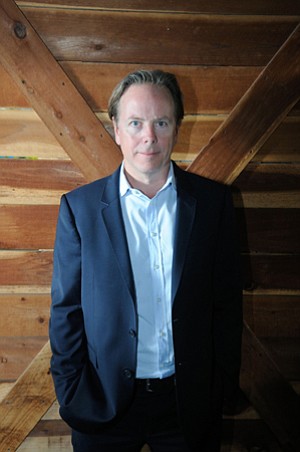 A sign at the entrance of ad tech firm Social Reality Inc. warns pedestrians that its Arts District headquarters – featuring a colorful mural and outdoor seating – is not a retail shop.
But like the lunchtime crowd flocking to its neighbor Urth Caffe, Social Reality has also seen a flurry of activity. Just this month, the company uplisted to the Nasdaq stock exchange, hired a new chief financial officer, and brought on supermodel-turned-fashion entrepreneur Kathy Ireland as its chief branding adviser. The business began trading on the Nasdaq on Oct. 17, opening at $6.50 a share, after a reverse stock split last month. It closed at $6.12 on Oct. 26. (See page 20.)
Christopher Miglino, Social Reality's co-founder and chief executive, said the company had been aiming to join Nasdaq since it launched six years ago.
"We started out small and listed on the OTC instead of raising venture capital," Miglino said. "Our goal was to stay quiet as long as we could and then uplist to Nasdaq and show people the accelerated growth."
The company hit $30 million in revenue last year, compared with $5 million in 2014.
Social Reality offers three core services, including a real-time bidding (RTB) platform for advertisers and publishers to buy and sell online ads, a health care-focused real-time ad exchange, and a social media management platform.
While smaller companies in the programmatic ad sector face an uphill battle in an industry dominated by Google, Rubicon Project, RocketFuel, and OpenX, Social Reality and similar firms have been able to push for growth by adding marketing services that fall outside the traditional role of an advertising exchange.
Gabe Gottlieb, co-founder and chief executive of Santa Monica online ad-tracking software developer Pathmatics, said it's a good move for any small to midsize ad exchange to branch out and offer additional services that create higher margins.
"There's a ton of big players," Gottlieb said. "As an exchange you want to unite the most buyers and sellers. … But if you're a small company trying to bootstrap, it's a hard proposition."
Placing bid
Social Reality was co-founded in 2010 by Miglino, former chief executive of Lime Ad Network, and Erin Deruggiero, who serves as chief innovations officer. Deruggiero had worked at Facebook, where she helped brands create sponsored, charity-driven content.
Starting out in Miglino's garage, the company has since grown to 120 employees with offices in New York, Minneapolis, Mexico, and Italy. Miglino said he expects revenue to reach $40 million this year.
Prev Next
For reprint and licensing requests for this article, CLICK HERE.