USC Named Media Center for Prospective Olympic Games
Friday, October 7, 2016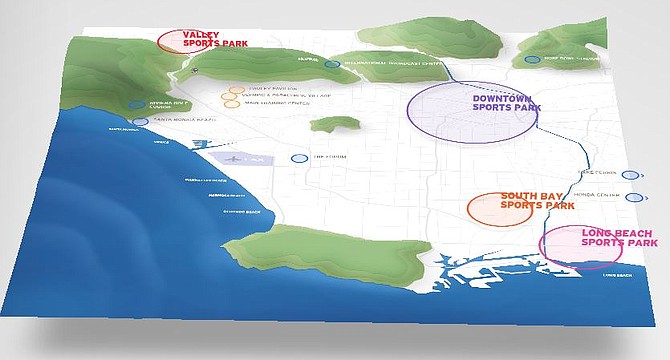 The committee to bring the Olympic Games back to LA in 2024 submitted a key report to the International Olympic Committee on Friday, outlining the city's master plan and "ideal conditions" to accommodate an influx of athletes, spectators and reporters.
The Candidature File Part 2, compiled by L.A. 2024, mapped out where sports venues and housing accommodations would be located throughout the city, touted California's growing economy, and pointed to the overwhelming amount of support for the bid - about 88 percent of the public.
The report also named the University of Southern California's main campus as the new home of the Main Press Center for the games, which will serve as the operations epicenter for international reporters covering the Olympics. The press center was previously slated for NBC Universal's studio lot, but the new USC location is centrally located to multiple venues, like the Los Angeles Memorial Coliseum, and is just a five-minute walk from Media Village, which will be located in the University Village housing development slated to be completed in fall 2017.
Related Link: California Pledges $250M Backup for L.A. 2024 Olympic Games
"L.A. 2024 is committed to harnessing LA's creativity, technology and entertainment assets to connect the Olympic Movement with a new generation of global youth," said Gene Sykes, L.A. 2024's chief executive, in a statement. "The world's media has a critical role to play in that as the storytellers of the Olympic and Paralympic Games, so giving them the best possible conditions to work in is a real priority for us."
USC and all of the venues associated with it will be part of the Downtown Sports Park, one of four such designated areas throughout the county. In addition to USC's main campus and the coliseum, the Galen Center and the university's Dedeaux Field will also be hosting events.
Related Link: L.A. Ready for its Olympic Close-Up
"USC takes great pride in its Olympic heritage, which dates to 1904, and we couldn't be more thrilled by the prospect of playing such a key role in Los Angeles' 2024 Olympic and Paralympic bid," said USC President C.L. Max Nikias in a statement.
L.A. is competing against Paris, France and Budapest, Hungary for rights to host the games. L.A. 2024's final submission to the Olympic committee is due February 3, 2017, and a decision on the host city is expected in September of next year.
Legal reporter Hayley Fox can be reached at hfox@labusinessjournal.com. Follow Follow her on Twitter at @EPFox.